A Tastemaker's Guide to a Romantic Sentosa Island Getaway
Beyond the tourist hotspots, Sentosa is an island's worth of hidden romantic secrets that seasoned tastemakers keep to themselves, and for very good reason too.
Uncovering novel, one-of-a-kind experiences for couples, this guide will show you and your partner the way to a getaway unlike any other below.
• Stay in a hotel exclusively for adults
• How to make sailing into the sunset a reality
• Activities for the adrenaline-seeking twosome
• Where to capture the perfect foodstagram
• Discover a spa escape inspired by Japan and Turkey
• Lesser known attractions for culture vultures
• Create your own private beach
• Uncover Sentosa's hidden past
• A curation of eclectic watering holes for evening tipples
• Introducing the island's best kept romantic secret
1. Stay in a hotel where it's your adventure, your rules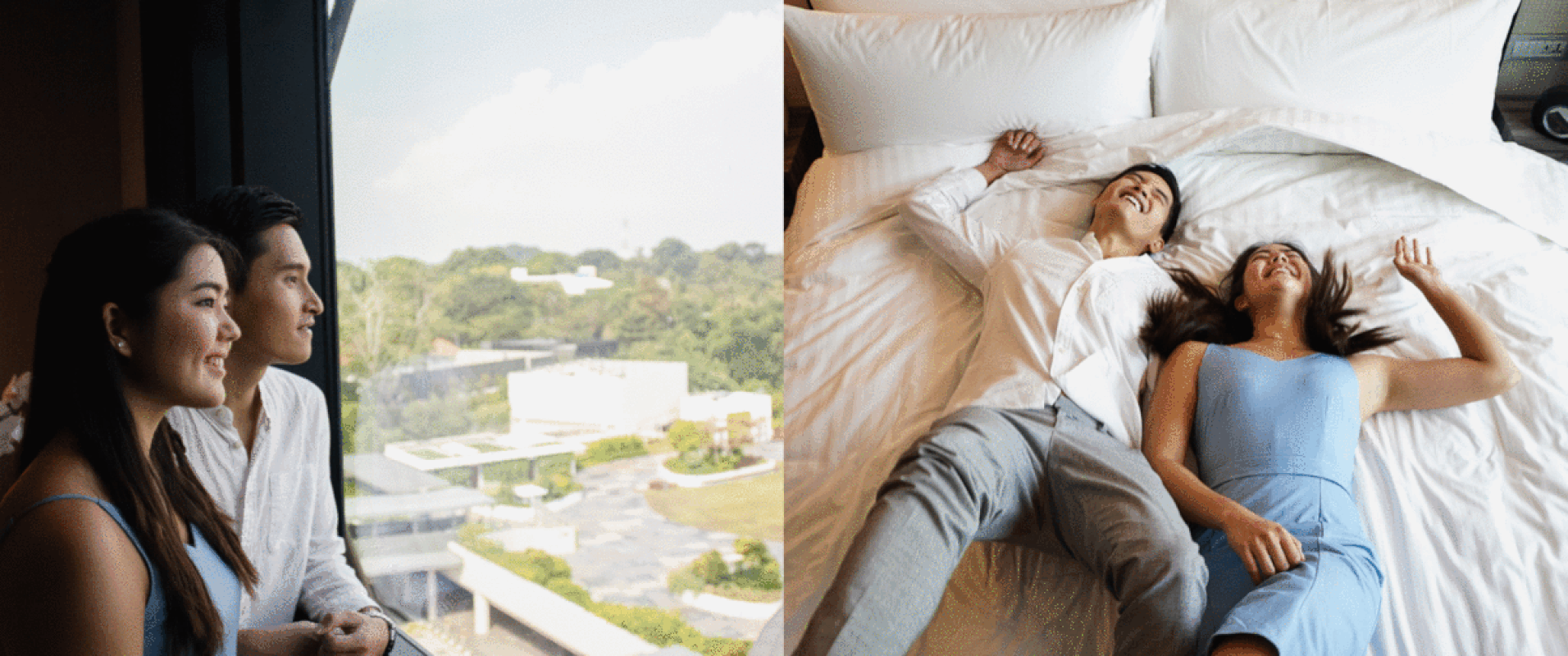 Your romantic escape begins atop a hill on Sentosa Island, at the newly launched The Outpost Hotel Sentosa. This hotel caters to adults and is suited for couples. Only guests above 12 years old are allowed!
A tastemaker should never be restrained by boundaries and limitations. At the point of booking, guests get to choose their own room view of either the pool, island or sea view.
Breaking from hotel norms, you'll also get the freedom to curate your own complimentary minibar from a selection of premium snacks and drinks.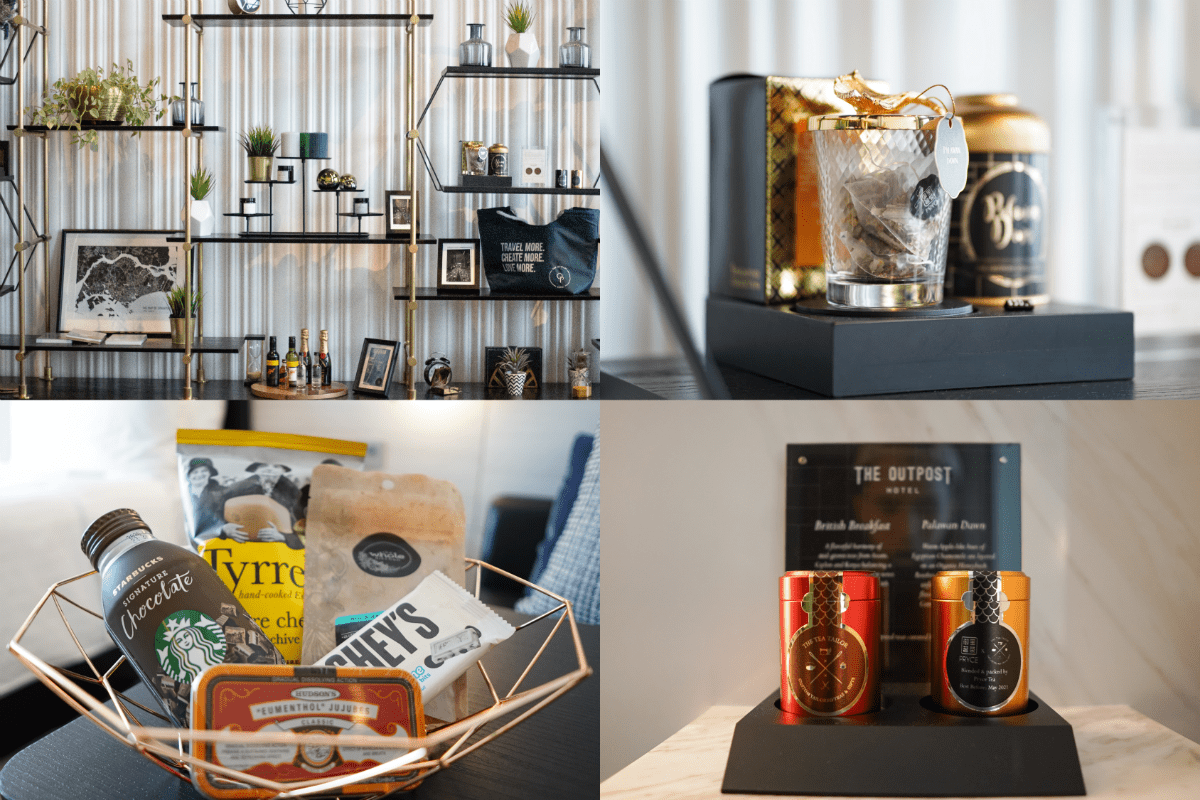 Turning the exclusivity up a notch, apart from the hotel's own amenities, guests can also access other amenities in the compound, like the pool deck with four themed pools, shared with Village Hotel Sentosa and The Barracks Hotel Sentosa.
To put it simply, enjoy all the amenities available in the compound, while keeping the good stuff to yourself.
2. Make sailing into the sunset, a romantic reality
Image Credits: The Royal Albatross
Maybe you've dined out at sea, or maybe you've even gone on a yacht before. But have you ever dined on the open deck of a traditional ship with sails?
Take to the sea for Singapore's most romantic dining experience with Royal Albatross's Sunset Sail and Dinner Cruise.
Be it a romantic date or a special celebration, hop on board Singapore's only luxury tall ship for a picturesque journey cruising from the bays of Sentosa island and out to the calm port waters, past iconic landmarks such as Marina Bay Sands and Reflections at Keppel Bay, and islands like St John's and Lazarus.
Image Credits: The Royal Albatross
Enjoy a sumptuous international three-course meal while enjoying the gentle sea breeze. If that doesn't sound like the perfect way to indulge in an ambience of romance under a canopy of stars, what is?
3. Find out what the adrenaline junkies are up to
Image Credits: Ola Beach Club
Thrillseekers and daredevils, you'll want to head on down to Ola Beach Club and AJ Hackett Sentosa for a euphoric experience!
Amongst the activities offered at Ola Beach Club, you can't pass up on the chance to be the first among your peers to take flight on a water-propelled jetpack! No experience is required for this nouveau water sport, but it'll definitely take guts of steel to launch yourself 30 feet above the sea.
Image Credits: AJ Hackett
Over at AJ Hackett, take a leap of faith together with your loved one on the only giant swing in Singapore, capable of launching you skyward 40 metres above the ground.
You'll be responsible for pulling the catch to release yourself like a human Viking ship. Strapped facing down and swinging at 120km/h, this exhilarating ride will have you grabbing onto your darling for dear life!
Top tip: Show your hotel key card for 10% off food & beverages (min. spending of S$80).
4. Experience fine dining that tastes as good as it looks
Elevate your dinner date to the next level with something exquisitely exclusive and utterly unique. Serving up more than just a meal are celebrated chefs Richard Van Oostenbrugge and Thomas Groot of Table65!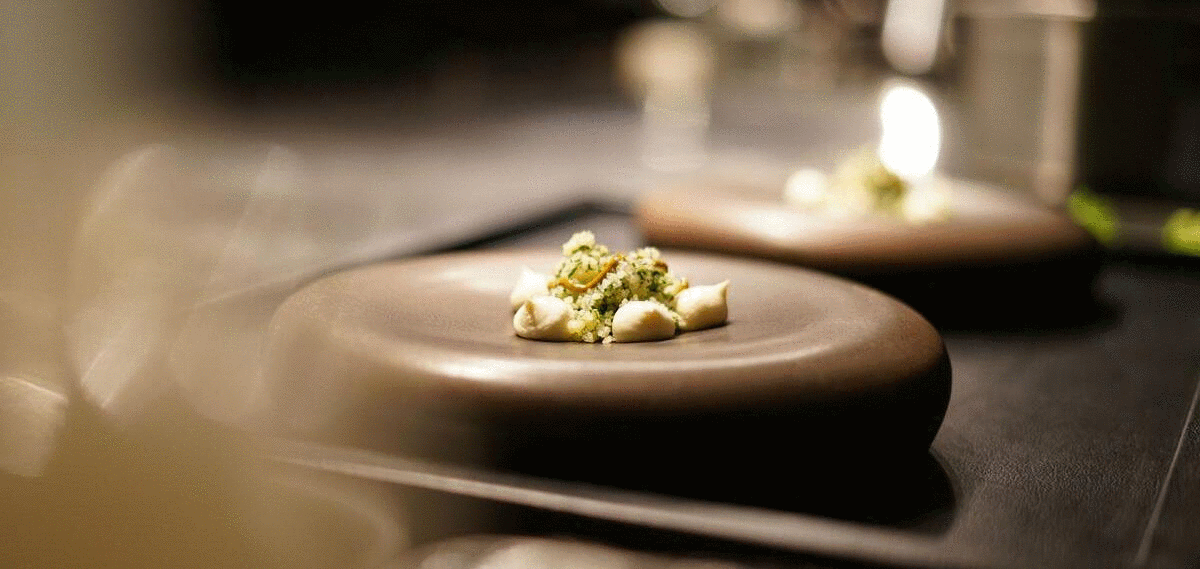 How different can it be? It's a multi-sensory show of light projections, levitating creations and a meal all in one! Each dish is specially plated to bring out the true essence and flavours of the ingredients; from a turbot covered in truffle scales to an umami bomb of langoustine confit to cold-smoked ceviche, the flavours dance and intermingle on your tongue to create their own flavour stories.
Expect none of those stuffy, pretentious fine-dining affairs. Instead, the chefs invite you to take a seat at the communal chef's table to watch the culinary masters hone their craft. What's more, Table65 has been awarded a Michelin star in 2019!
5. Take wellness living to the next level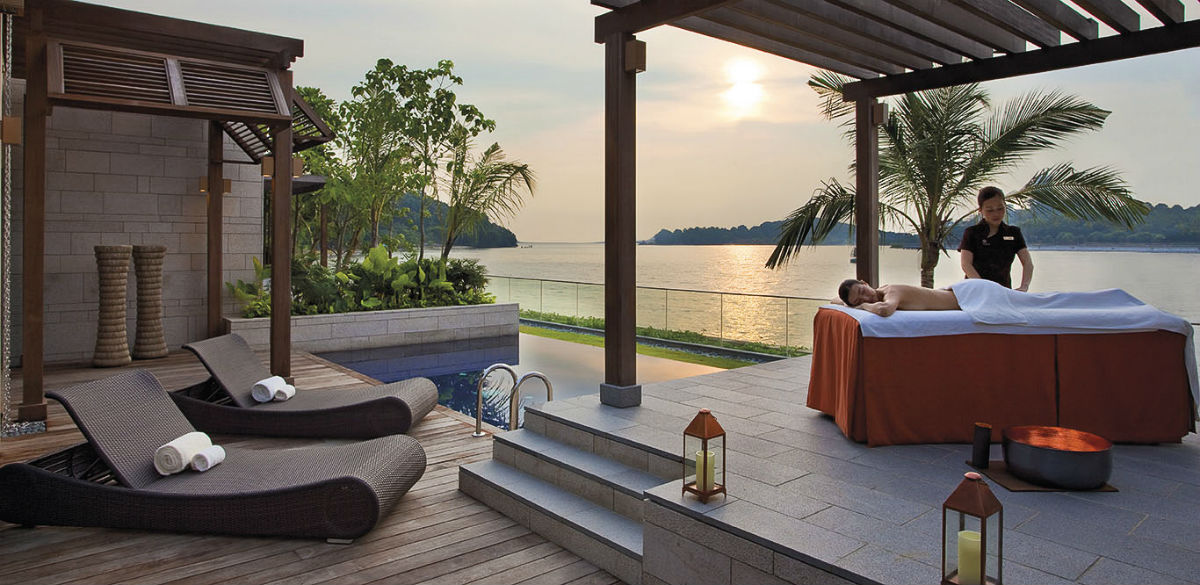 Image Credits: Resort World Sentosa
Of course, no romantic getaway is complete without a luxurious spa treatment! And a simple spa parlour is not going to cut it. Enter ESPA, a famed oasis of tranquillity.
Try out ESPA's signature facilities like the forest onsen pool, crystal steam rooms, vitality pools, and Singapore's first authentic Turkish Hammam (a steam-based bathhouse). It'll feel as if you're out in the wilderness, embraced by Mother Nature.
Allow the weariness of your mind, body and soul to completely wash away with ESPA's wide range of nature-based treatments, massages, cleansing rituals, As you close your eyes, feel your senses awaken under the highly skilled hands of the therapists.
Top Tip: Quote "FAR EAST SENTOSA" and enjoy: 1-for-1 Day Pass for ESPA Facilities and 15% off Body and Face Treatments. (Do note that advance reservation is required)
6. Let your creative muse wander within barracks of art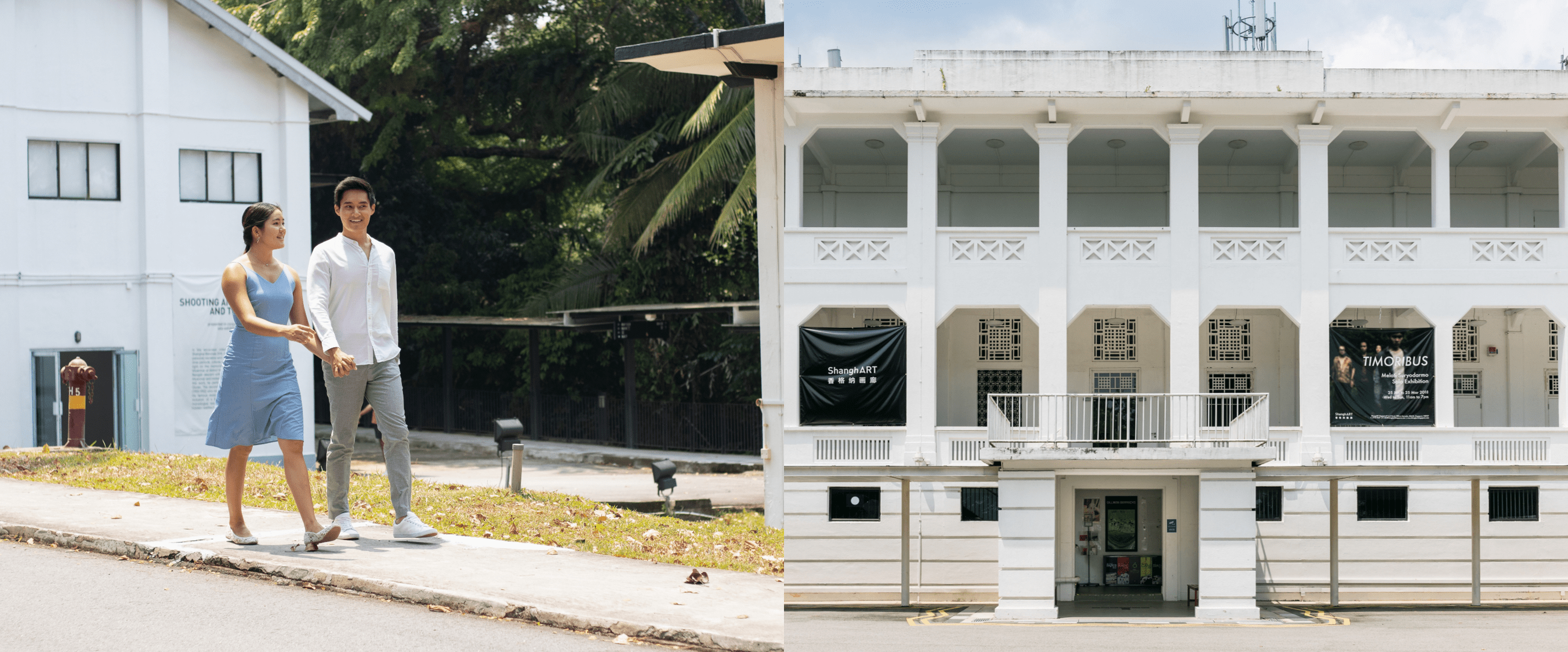 Image Credits: Gillman Barracks
Got an appetite for the arts? Then you've got to make your way down to Gillman Barracks. Repurposed from a former military barracks that dates back to 1936, it's a quaint enclave with over 10 art galleries, frequently refreshed with new exhibitions from artists across a spectrum of disciplines and styles.
Here's an insider tip, Gillman Barracks is also home to some popular eateries such as Burgerlabo and Masons.
If you're craving for something sweet, head over to Creamier which has one of the best handcrafted ice cream and coffee.
7. Escape to private beaches on an island-hopping getaway
As beautiful as the beaches of Sentosa are, we do understand that it tends to get a little crowded. If you're feeling bogged down by the crowd, hop on a ferry and visit some of Singapore's Southern Islands, which feature secluded beaches relatively untouched by commercial development.
Our personal favourite would be Lazarus Island. Remember to bring along some snacks and drinks for a romantic and private picnic.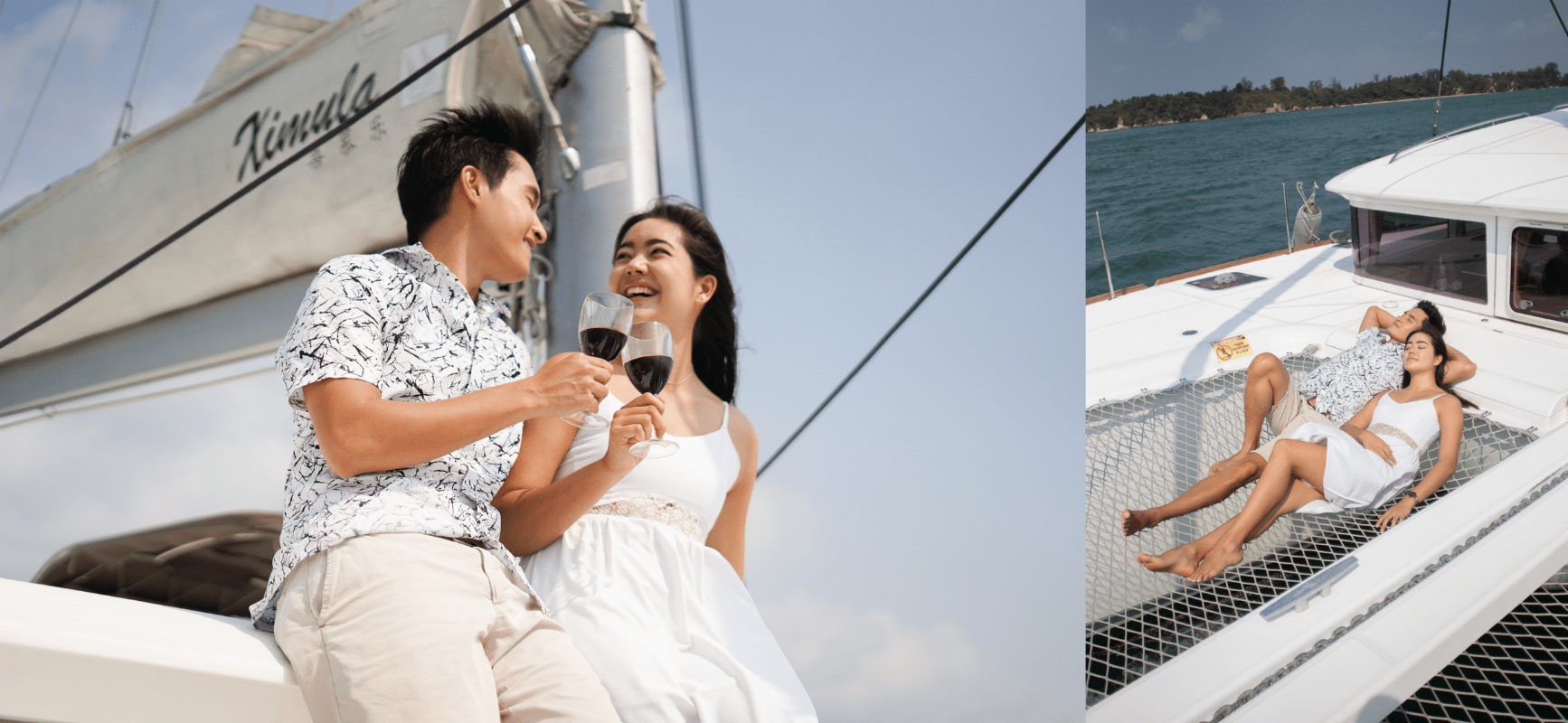 Not interested in getting into the nitty-gritty logistics of planning? Let Ximula Sail take you on a hassle-free leisure yacht charter around the islands. Their team of passionate sailors even offers specialised itineraries like birthday or anniversary celebrations, engagement proposals and wedding photoshoots — complete with meals, champagne, decor and even drone videography, all at your request!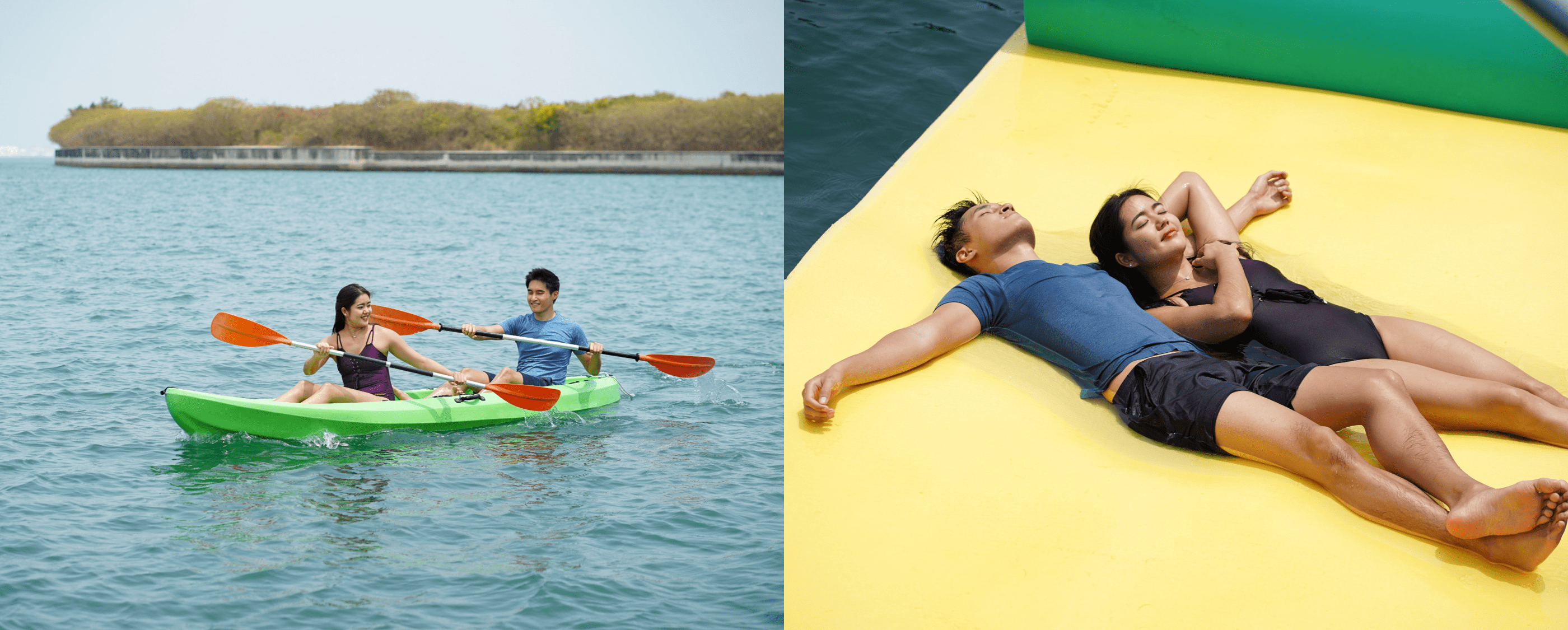 Each rental also comes with complimentary kayaks, paddle boards and snorkeling equipment. Amidst all the fun, don't be surprised if you forget momentarily you're still in Singapore!
8. Travel back in time and uncover an island's hidden past
Now, not many vacation islands can boast of a colonial backstory as rich as Sentosa's - a secret pirate hideout turned fishing village - turned British military outpost.
If you have a keen interest in arts and heritage, check out the Singapore Bicentennial, a year round program featuring events to commemorate and celebrate 200 years of history!
Below are some of the top events featured in Sentosa, just hop onto any one of Sentosa Heritage Tour's specially curated programmes and you're set for an adventure!
My Mount Faber & Sentosa Heritage Tour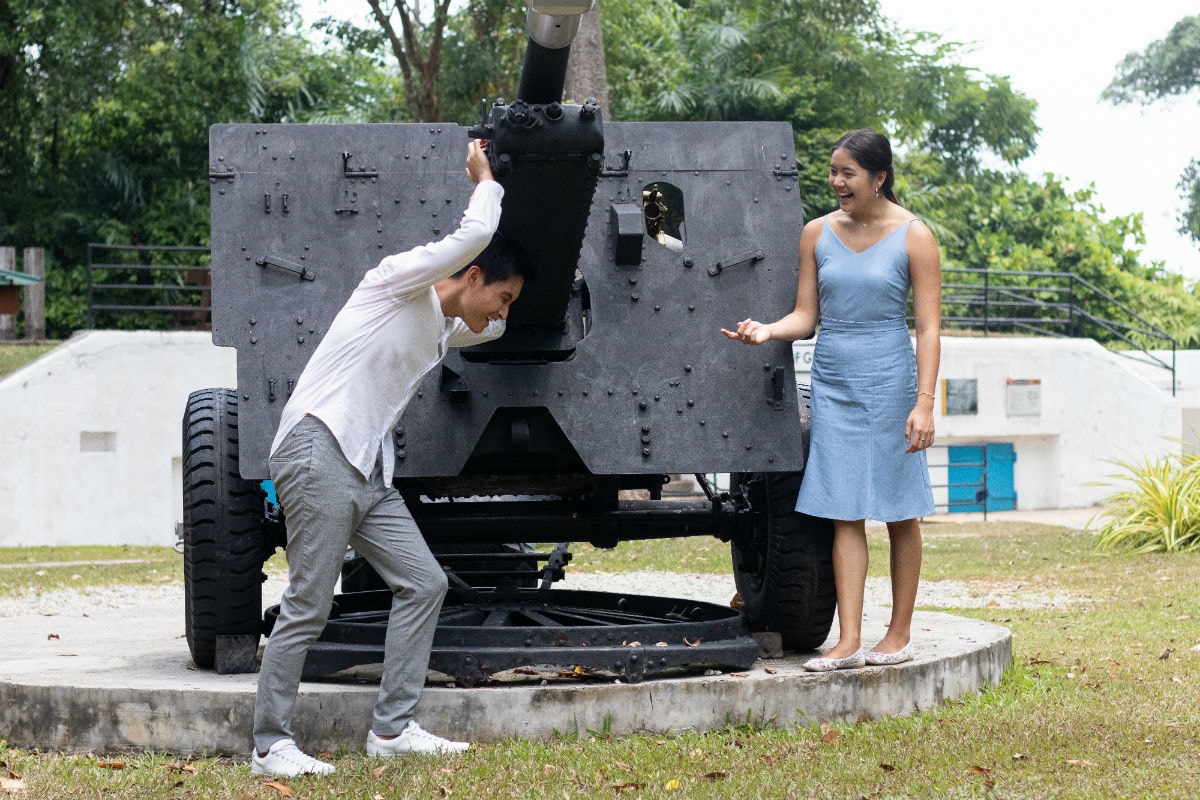 Rediscover the hidden history of Sentosa before it became a holiday island, as you visit Mount Faber and explore both Fort Siloso and Fort Serapong!
Walk Along with Art: History in Our Midst
Image Credits: Wikimedia Commons
Walk down the old road leading to Fort Siloso where it will be lined with creative art depicting a timeline of Sentosa's history and you might just find that something that tugs at your heart strings.
9. Discover a concoction of eclectic watering holes
As the sky burns vermillion before fading to purple, you're most likely to want a drink or two spice up your romantic getaway. Thankfully, there's no shortage of watering holes both in and around Sentosa!
Bar Nebula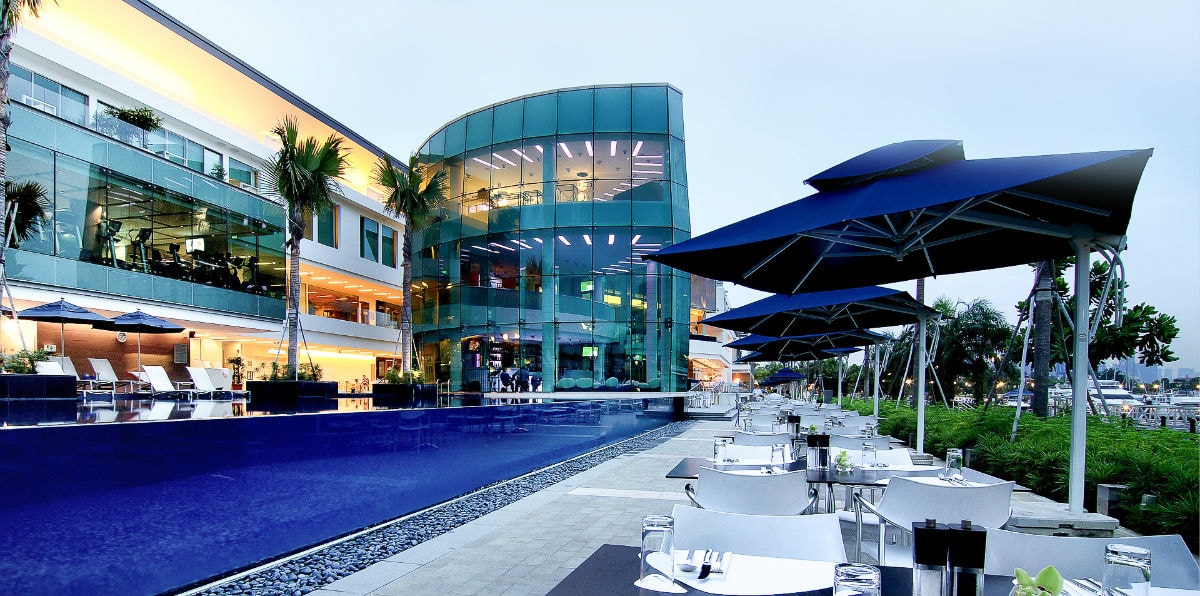 Image Credits: One°15 Marina Sentosa Cove
Bar Nebula is an iconic glass tower in Sentosa Cove where you can take in stunning vistas of the marina. Decked in plush furnishing under a high ceiling, you can unwind in style on your intimate night out.
Bar Nebula is well-known for its selection of single malt whiskies, fine wines and gourmet bites, we'd definitely recommend folks with finer taste buds to give it a visit.
The Wine Company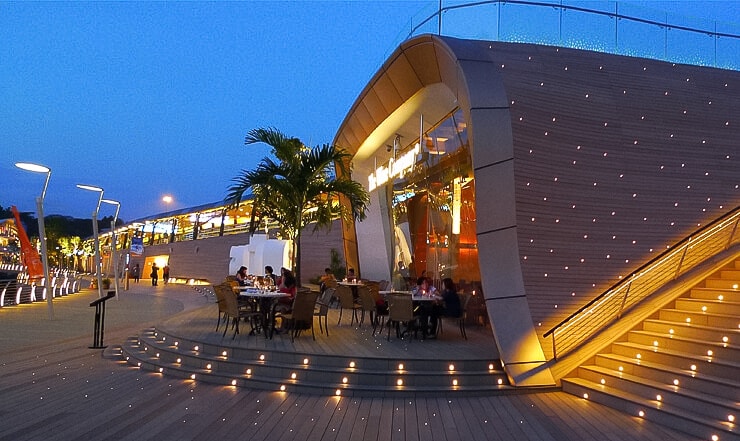 Image Credits: Sentosa Development Corporation
For a more romantic affair, The Wine Company offers a quiet candlelight dinner — out on the Sentosa Boardwalk itself, between Sentosa and mainland Singapore. True to its name, you can expect over 300 choices of wine of splendid quality from more than 50 wineries around the world, complemented by the beautiful harbour view with cable cars in the background.
After dinner, we'd recommend you go for a stroll along the romantic boardwalk, dotted by glowing, incandescent lights under the night sky.
Hopscotch
Image Credits: Hopscotch
A fan of fusion food? One of the bistros located within the Gillman Barracks area, Hopscotch is your gateway to a whimsical selection of Singapore-style craft cocktails and decadent food.
Featuring truly one-of-a-kind mixes, this cosy bar rewires what you know about the word "fusion" and takes mod-Sin (modern interpretation of Singaporean dishes) to the next level.
We'd recommend you try the 'White Sands' a cocktail of sake, malibu and vodka blended with dry ice – a top favourite. If you're feeling adventurous, order the 'Kungfu Hustle' a scotch and rice wine cocktail served in a Chinese wine vat!
Dusk Restaurant and Bar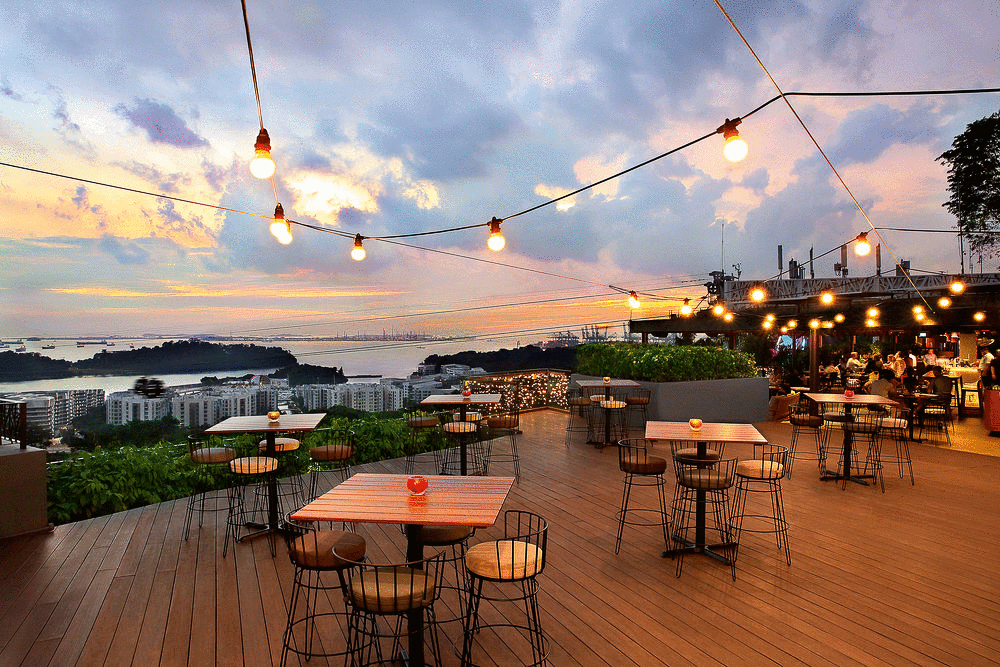 Image Credits: Onefaber
The best sunset views are undeniably on the highest peak possible, which is why Dusk Restaurant and Bar is the perfect observation point for catching the breathtaking panorama of Sentosa and the southern bay area. You even get to make your way up in style, that is, in a cable car!
For food and drinks, we'd recommend you try 'Dusk till Dawn' - a playful cocktail served in a lightbulb, and the delicious Côte de Boeuf - a 700g prime rib steak perfect for two to share.
Top Tip: Show your hotel key card for 10% off food & beverages (min. spending of S$80).
10. Wind down in one of the most romantic spots on the island
As the curtain draws each day to a close, there's no better way to end the night than one befitting of your meticulously crafted itinerary.
Lounge with your partner at 1-V:U located at the rooftop of The Outpost Hotel. Offering sensational views of the Singapore Strait, 1-V:U is an iconic day-to-night lifestyle destination that features a coastal-luxe Day Club and a smart-casual progressive Asian Restaurant helmed by Head Chef Ace Tan.
Apart from stunning sunset views of the coast, you'll also get to catch dazzling fireworks from the nearby Wings of Time show.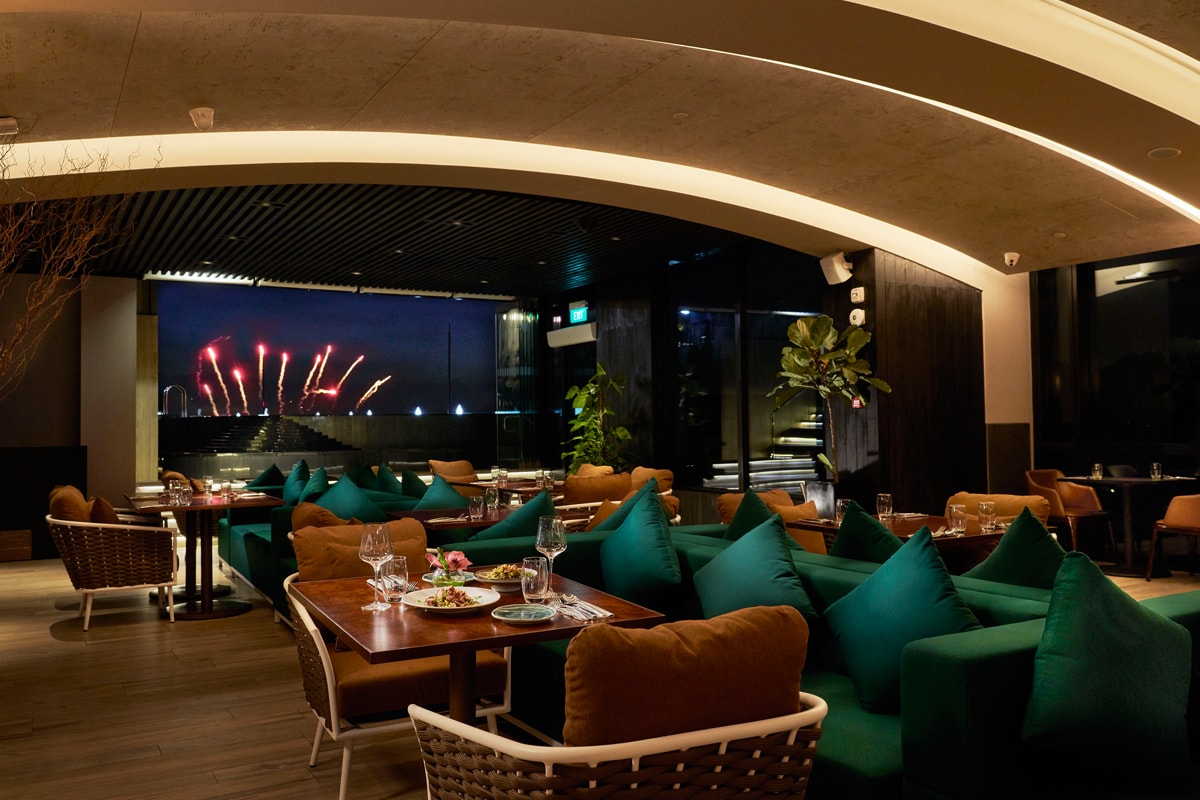 If you prefer the spaciousness of the shared pool deck, you can also take in the spectacle of pyrotechnics from the cascading Pamukkale Pool below.
With infinity pools, cocktails and fireworks, romantic nights are rarely going to be as perfect as this.
If you're still looking for more activities and discounts, then check out this our other ultimate guide on things to do in Sentosa here.
Information is accurate at time of publication. Terms & Conditions apply for partners' benefits.