The Orchard Rendezvous Story:
A New Hotel, A New Chapter
Orchard Parade Hotel has blossomed into Orchard Rendezvous Hotel with a botanical look and feel. Located in Singapore's most iconic shopping district, Orchard Road, the hotel has fresh interiors inspired by the street's rich heritage and the nearby Singapore Botanical Gardens – a UNESCO World Heritage Site.
With the rebrand, the hotel has an interesting story to tell; let's start from the very beginning.
Prologue: Humble Beginnings
The famous Orchard Road has a rich and colourful history to share. Back in the 1800s, the street was once an unnamed country road lined with large swathes of pepper farms, nutmeg plantations, spice gardens and fruit orchards, which many believe is how the name 'Orchard Road' came about.
Orchard Road in the old days (Image credit: Andrew Tan, National Archives of Singapore)
In fact, pepper plantations used to be located where Orchard Rendezvous Hotel sits today! In 1970, this site became home to Ming Court Hotel, one of the first few establishments in Singapore to provide quality accommodation to the influx of tourist arrivals. Withthe refurbishmnet completed in 2018, Orchard Rendezvous Hotel now welcomes you with a fresh look and botanical concept - adding a brand new chapter into the colourful history of Orchard Road!
Ming Court Hotel (Image credit: Facebook Group 'Nostalgic Singapore')
Want to know what else you can expect from the newly-refreshed Orchard Rendezvous Hotel? Read on to find out more!
Chapter 1: The Welcome
Enter the hotel and be greeted by the exquisite pepper leaf-inspired chandelier in the hotel's lobby. The pleasant mix of floral, tea and citrus scent in the air will allow your mind to rest easy for an enjoyable stay. If you need anything, feel free to approach the friendly and helpful staff that can easily be identified by the floral-accented uniforms.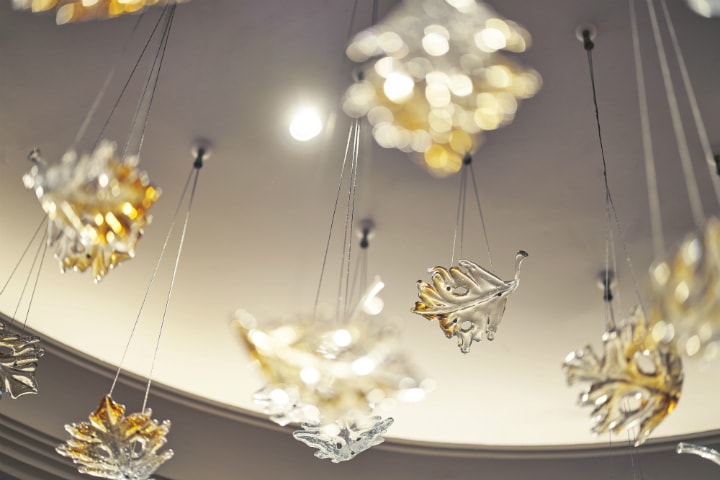 Be dazzled by the pepper leaf-inspired chandelier
Take a few steps into the atrium where you are unlikely to miss the Ficus Benjamina tree – one that is native to Asia and prevalent in Singapore. Take a seat in one of the comfy chairs around the tree and enjoy the garden-like atmosphere.
Ficus Benjamina tree at Orchard Rendezvous Hotel lobby's spacious seating area
As you head upstairs to your room, take some time to snap 'Instagrammable' shots of the botanical designs and artwork in the hallways.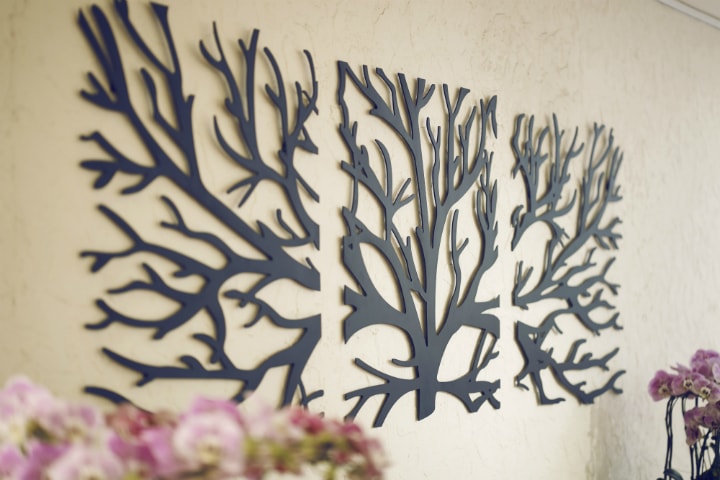 A tree art piece at Orchard Rendezvous Hotel lobby
Chapter 2: The Stay
Located in such a prime location, Orchard Rendezvous Hotel has spacious rooms that offer incredible value for money! Take your pick from Deluxe, Family, Club or Suite rooms – there is an option for all. If you are staying with family, you are in luck. Orchard Rendezvous Hotel offers family rooms for up to four adults! The little ones can share a room with Mum and Dad with ample space to run around.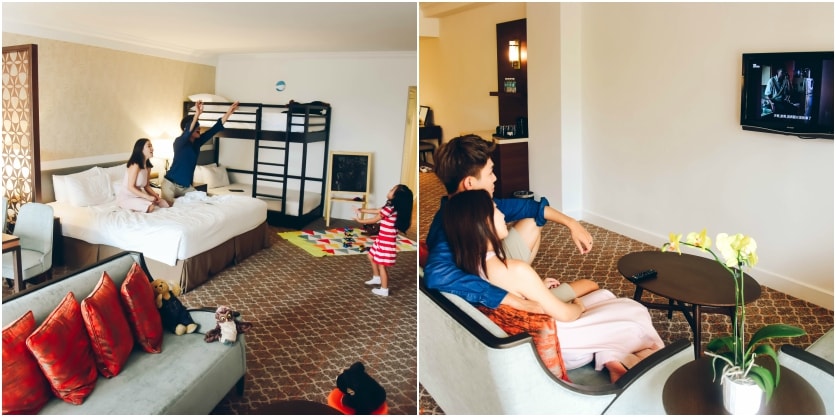 Adults and children alike are sure to enjoy our family rooms
For those who would like some extra perks and the special treatment, be sure to book the Club Room! Enjoy exclusive access to the Club Lounge that will welcome you with a chilled floral-infused drink. You may also enjoy refreshments there at any time of the day, choosing from an array of floral or spiced teas! What's more, the lounge is stocked with interesting books on botany and Singapore's history to keep you occupied while you are there.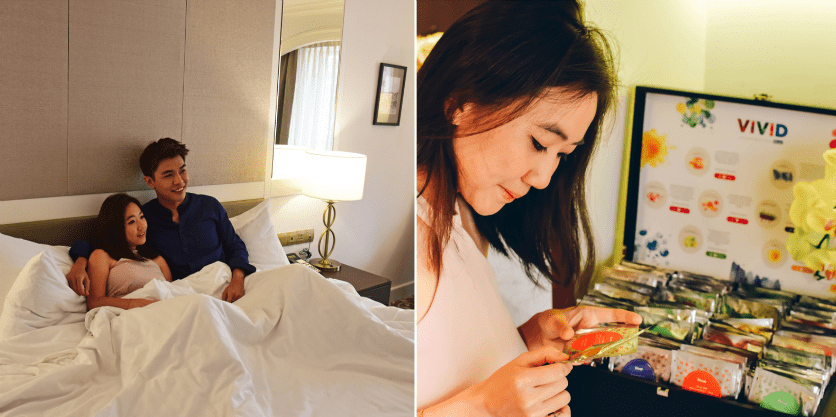 Orchard Rendezvous Hotel Club Suite with Club-exclusive perks and offerings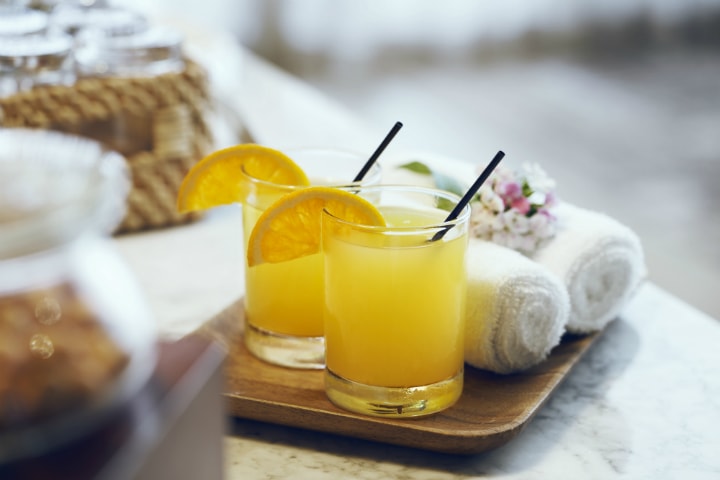 Welcome drink at the Club Lounge
Special touches of the hotel's character are showcased in all rooms regardless of the room category booked. Details include botanical-inspired headboards, framed sketches of old Orchard Road and bathrooms equipped with Naturals shower amenities that offer a fresh scent straight from the garden.
Chapter 3: The Experience
If you have been reading online reviews, you will notice that the pool is everybody's favourite! Get a tan, enjoy a dip in the pool, lounge in one of the many cabanas around and quench your thirst with some ice-cold drinks from the poolside bar.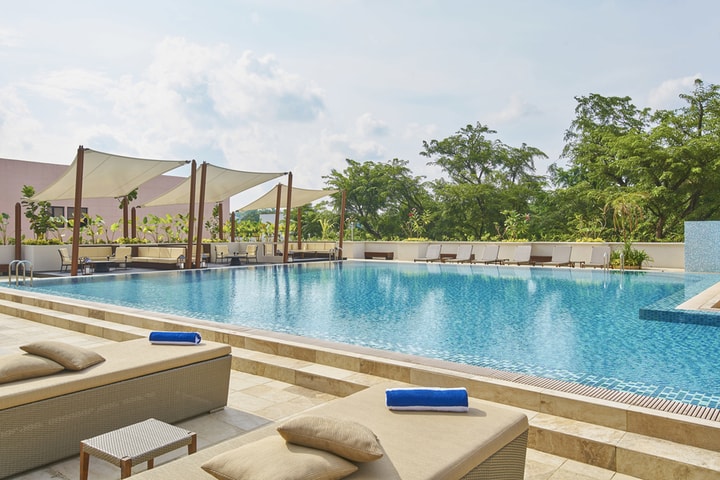 Orchard Rendezvous Hotel's outdoor swimming pool

And of course, as this is the only place in Orchard Road where you are truly able to escape into a botanical oasis. Stroll around the landscaped gardens next to the pool and you will spot flowers and plants that thrive beautifully in Singapore's climate! You must not miss the chance to marvel at the Vanda Orchard Rendezvous – an orchid hybrid specially commissioned by the hotel. Look beyond the garden and you might catch a glimpse of the lush and tropical landscape of the Singapore Botanic Gardens in the distance.
Our very own Vanda Orchard Rendezvous
Epilogue: The Vicinity
Ready to head back out into the city? Just a 15-minute walk away is the Singapore Botanic Gardens, served as inspiration for the hotel's botanic concept. Otherwise, head in the other direction down the shopping belt to experience the best of what Singapore's shopping has to offer.
For more ideas on what to eat and shop in and around the hotel, head down to our staycation guide.
Now celebrated internationally as Singapore's iconic and busiest shopping belt, it's hard to believe that Orchard Road was once just an unnamed street lined by plantations and fruit orchards!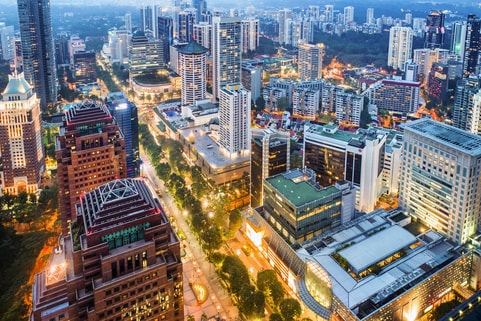 Orchard Road is no stranger to travellers and locals alike (Image credit: TIH)
Want to experience a stay at the new Orchard Rendezvous Hotel? Book your stay here or learn how you can make it a staycation to remember!