Kids' Day Out & Parents' Day Off: A Sentosa Family Guide
As a parent, have you ever wished that you could just grab your bags and take off on a short holiday to forget about your responsibilities for a little while?
As much as it sounds too good to be true, an actual vacation — one that is worry-free and hassle-free — is not an impossible dream.
We've done all the homework for you, all you've got to do is pick up your bags and follow our guide:
• Pick the right hotel
• Let the kids handle the logistics
• Get 'separate' rooms for the parents and the kids
• Watch them earn their first buck
• Where to let your kids whip up a meal for the family
• How to soak up precious couple time
• Embark on a free family expedition
• Fill up on fuss-free meals
• Bonus tips!
1. Start by picking the right hotel
A huge part of what makes or breaks your vacation is your accommodation, it's little wonder why most travellers spend chunks of their time choosing the right hotel. Cut out the planning, you're in luck here; Village Hotel Sentosa is a clear frontrunner for a family vacation on this sunny island.
Newly launched in 2019, it is the newest hotel in Sentosa that caters to vacationing families. Located at the centre of the island, enjoy great convenience when it comes to visiting the island's top attractions.
If you don't feel like venturing out, you can also enjoy many of these family activities and amenities that the hotel has thoughtfully crafted, all listed down below!
2. Ease back and let your kids handle the logistics
We really mean it when we say parents get a "day off". Basic adulting such as checking the family in, doesn't get in the way of your relaxing holiday at Village Hotel Sentosa. You don't even have to lift a finger to check in as your Village Important Kids (V.I.K.) can do so for the family!
Watch your kids climb up the cutest flight of steps and let them handle the whole check-in process for the family. Kids will enjoy the experience of taking over what is typically Daddy and Mummy's responsibility, while parents can lounge in plush, comfy couches and watch their kids work their magic.
3. Get 'separate' rooms for the parents and kids
Say goodbye to cramped hotel room situations when you check in to any of Village Hotel Sentosa's family rooms. Each family room is actually made up of two individual but connected rooms!
Yes, this means double the amenities - two bedrooms, bathrooms, TVs and more, so no more squabbling over who gets to choose the TV programmes!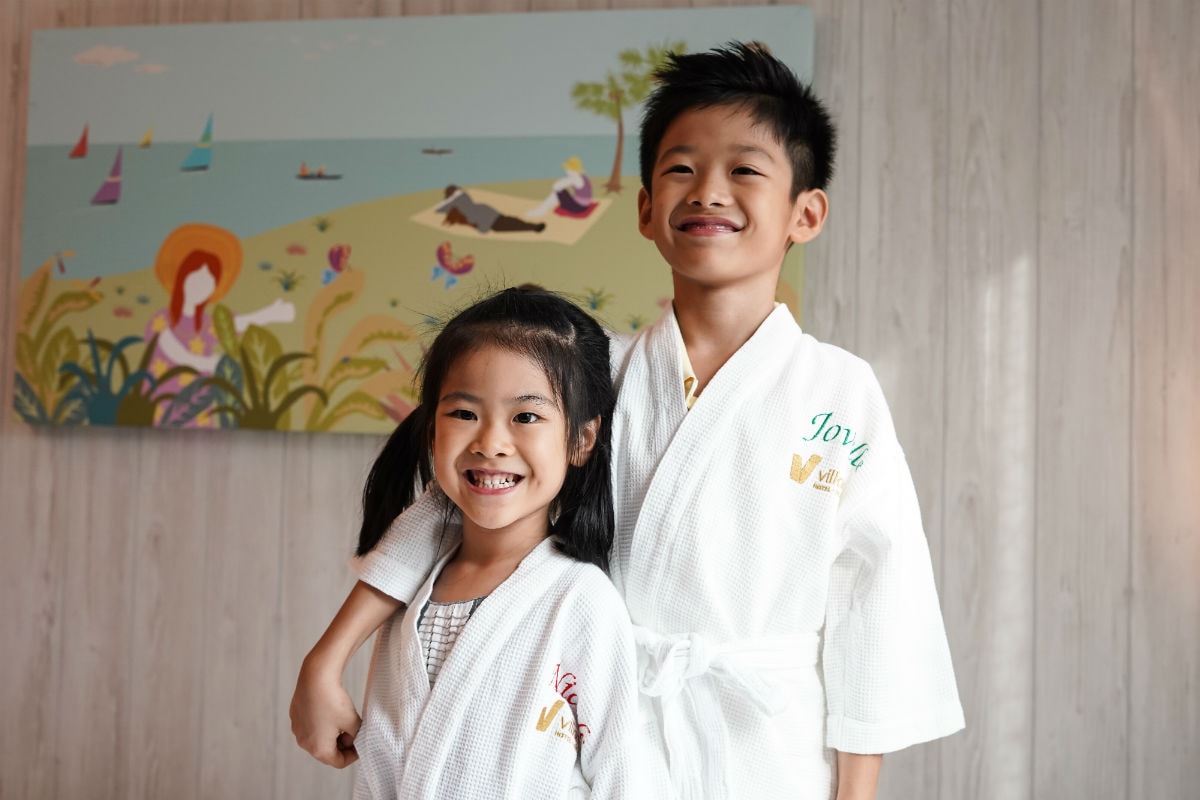 Upon check-in, guests can also request for children's amenities which includes the likes of smaller bathtubs, baby cots, kids' hangers and more!
Being completely child-proofed, with bumpers around the edges of the tables and walls, rest assured that your kids are safe while you spend some quality time with your spouse.
Additionally, families who book the Family Rooms and Deluxe Family Rooms will receive a Kids' Pack, inclusive of kids' bath and toothbrush amenities, kid-sized bathrobes, and other knick-knacks to keep the little ones entertained!
4. Sit back as the kids whip up a meal for the family
Let your kids take their first step to become the next Masterchef! Over at Slappy Cakes, kids get to learn how to make pancakes from scratch on a tabletop griddle and look every bit like a professional teppanyaki chef. Every child would enjoy the idea of creating a caricature of their favourite characters and eating them. Having fun while dining? Can we have seconds, please!
Not only is it a flippin' good time for the entire family, it also provides a chance to experience a role reversal where the kids are the ones placing food on the table for the parents. Place your orders with your "personal chef" and watch in delight as they whip up pancake after pancake, before appreciatively digging into a meal customised by your little one. Don't forget to take pictures of their masterpieces, you'll want to pull out a record of this amazing experience to reminisce about together for years!
5. Soak in precious couple time while your kids splash around in a pool deck
Forget crowded water themed parks and the necessitating packing logistics that come with it - a new landmark pool attraction now exists within Village Hotel Sentosa. All hotel guests have to do is step out of your room and they will find themselves in an exclusive pool deck that has not one, not two, but four swimming pools! Each of the pools are themed and customised based on different riverine and ecological habitats.
The kids get to choose between three different pools: the Adventure Pool — inspired by the Verdant Islands and the biggest pool of the lot, complete with social pods and a play lawn; the Lazy River — modelled after the Amazonian Rainforest where kids can take a winding trip through the river; and the Children's Play Pool — a shallow kids' pool with plenty of water features and a water slide! Also, don't worry about the safety, hotel staff are always around the pools, keeping a close eye on your precious kids.
As if that's not enough to entertain the young ones, there are plenty of kiddie pool games offered over at the Adventure Pool. From Bubble Shooter to Pong Toss, Water Gun Shootout to Squirt Gun Race, your kids will love it so much that you'll find it an uphill task just trying to convince your kids to leave the pool. (Type of pool games might vary)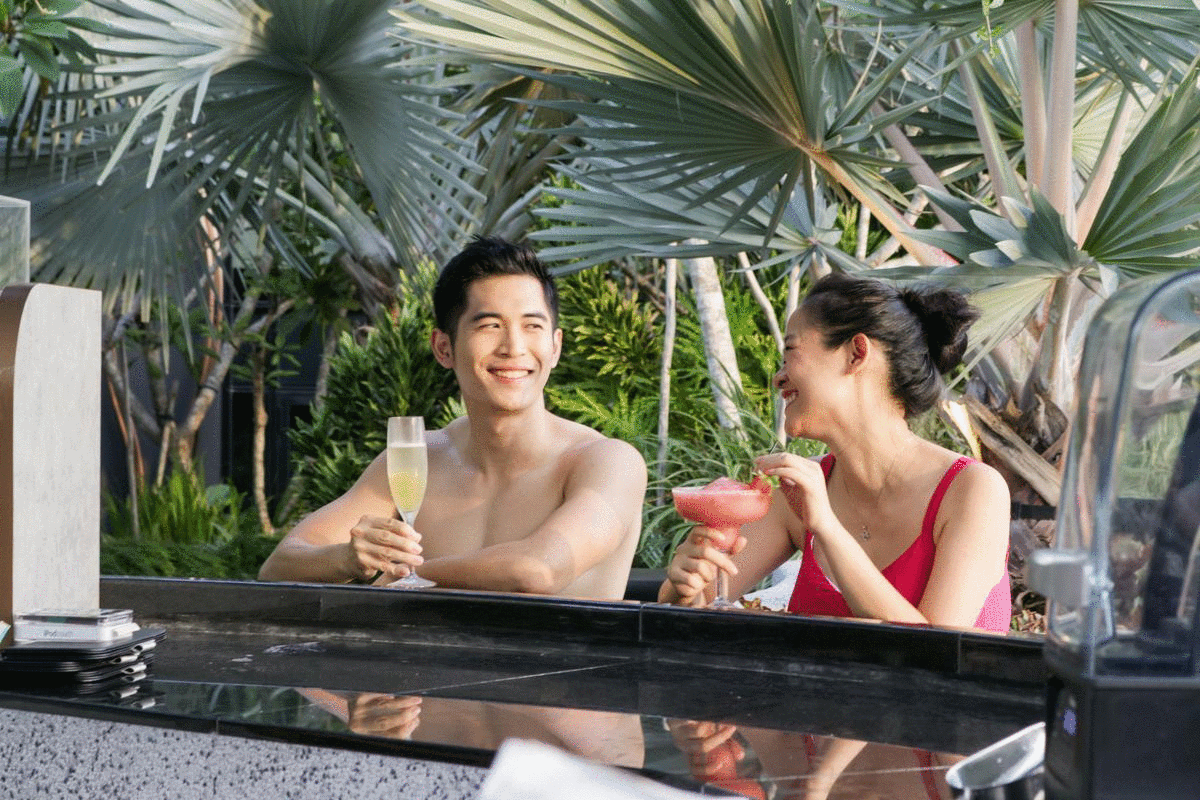 While the kids tire themselves, parents can retreat to the Pamukkale Pool, complete with a cocktail bar and a sunset view overlooking the sea. This infinity pool provides some incredible Instagram-worthy shots with its spectacular sunset hues. When you're done soaking up some Vitamin D goodness, you can head over to any one of the spa pods or water play channel to chill out. Who would've thought you'd get to enjoy your own pocket of paradise while on a vacation with the kids?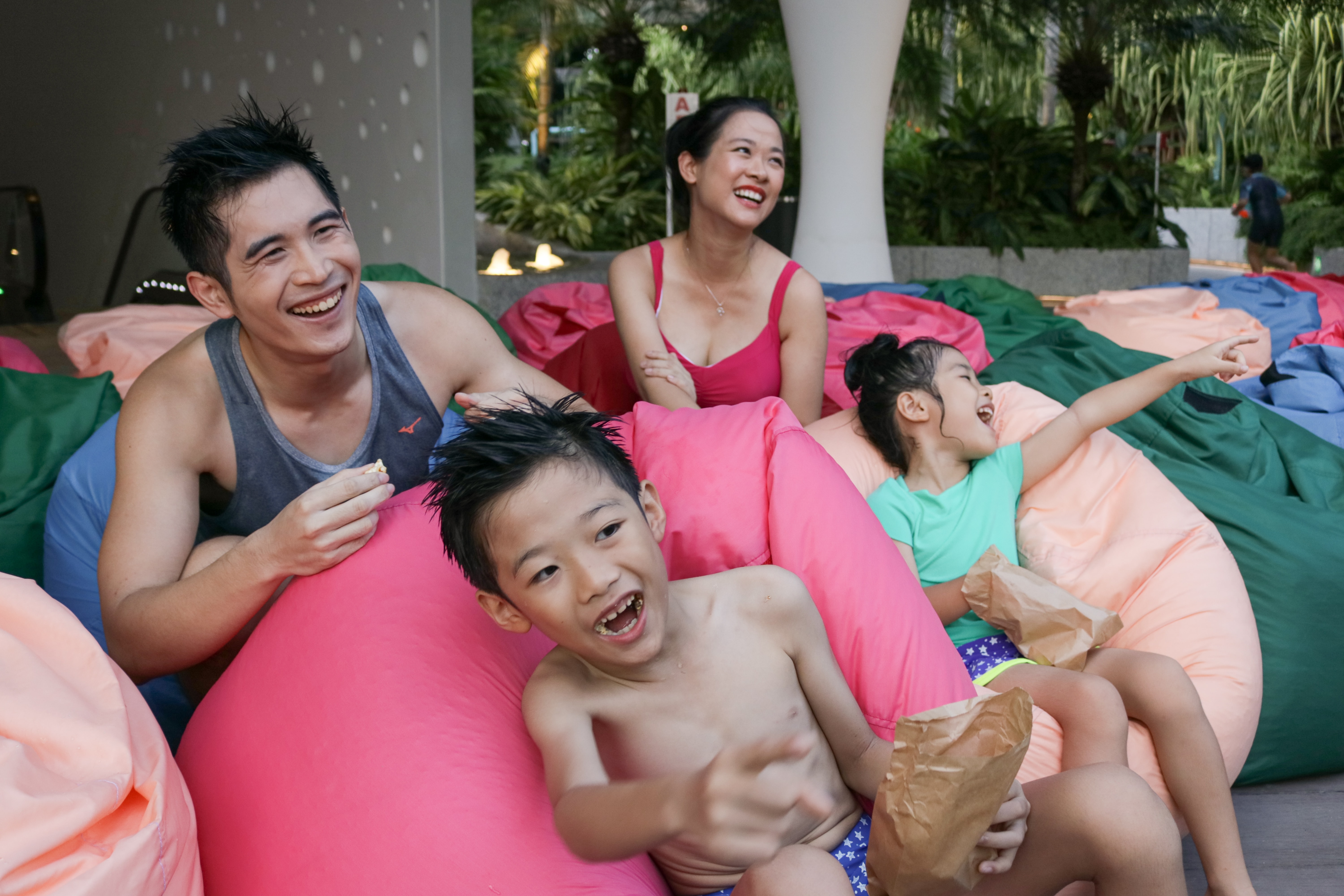 On Saturday nights, hotel guests can even catch a movie screening by the pool together as a family. And yes, there's also free popcorn for everybody!
6. Let the kids captain a family expedition
Image Credits: Sentosa Development Corporation
There's no need to bargain with your kids about getting out of bed once they hear about the Family Scavenger Hunt! Organised by the hotel, it starts from 9am daily over at the lobby and takes you across Imbiah Lookout and the Sentosa Nature Discovery trail.
The path is laden with a myriad of flora and fauna, providing the perfect immersive opportunity to learn about the unique natural ecosystems that thrive in Sentosa. For every new nature discovery, it also entitles you to a point on your Nature Bingo!
Did we say Bingo? That's right! It's not just any boring old walk — you get to compete with other participating families to see who completes the Bingo first! Watch your kids rev up in excitement and unleash their adventurous side as they lead the family and navigate through Sentosa's "wilderness".
Parents, too, will love following in the steps of their mini explorer and watching them take charge.
7. Feed your children with ease
A perk for staying at Village Hotel Sentosa is that it's thoughtfully filled with many yummy pit stops so you'll never go hungry!
Each hotel level is equipped with a Village Hub — pantries equipped with vending machines, ice makers and an assortment of coffee and tea. Tackling late night hunger pangs becomes a quick 5 minute affair!
Heading out? Visit Supply Depot, located right at the hotel lobby, perfect for a grab-and-go while heading out. Alternatively, you could also load up at Happy Camper, a vintage food truck by the pool offering light refreshments and quick bites. The kids would love a popsicle treat after working up a sweat!
Need something more than quick bites and finger food? Native Kitchen, the hotel's resident restaurant provides a daily breakfast buffet, where every child under 5 years old gets to enjoy free dining with every paying adult!
Pssst..Hotel guests also get to enjoy 10% off for Dine-in lunch and dinner!
Post-breakfast, the menu switches up to islander-inspired menu items, a fusion of Asian and Polynesian dishes. We recommend the heart Big Kahuna Burger and their signature Native Kitchen's Nasi Lemak!
8. Need More? Here's some bonus tips
Don't be bogged down by unnecessary planning, we've got you covered. Stay on track for a fuss-free, stress-free family vacation all the way till the end.
Siloso Skywalk - Free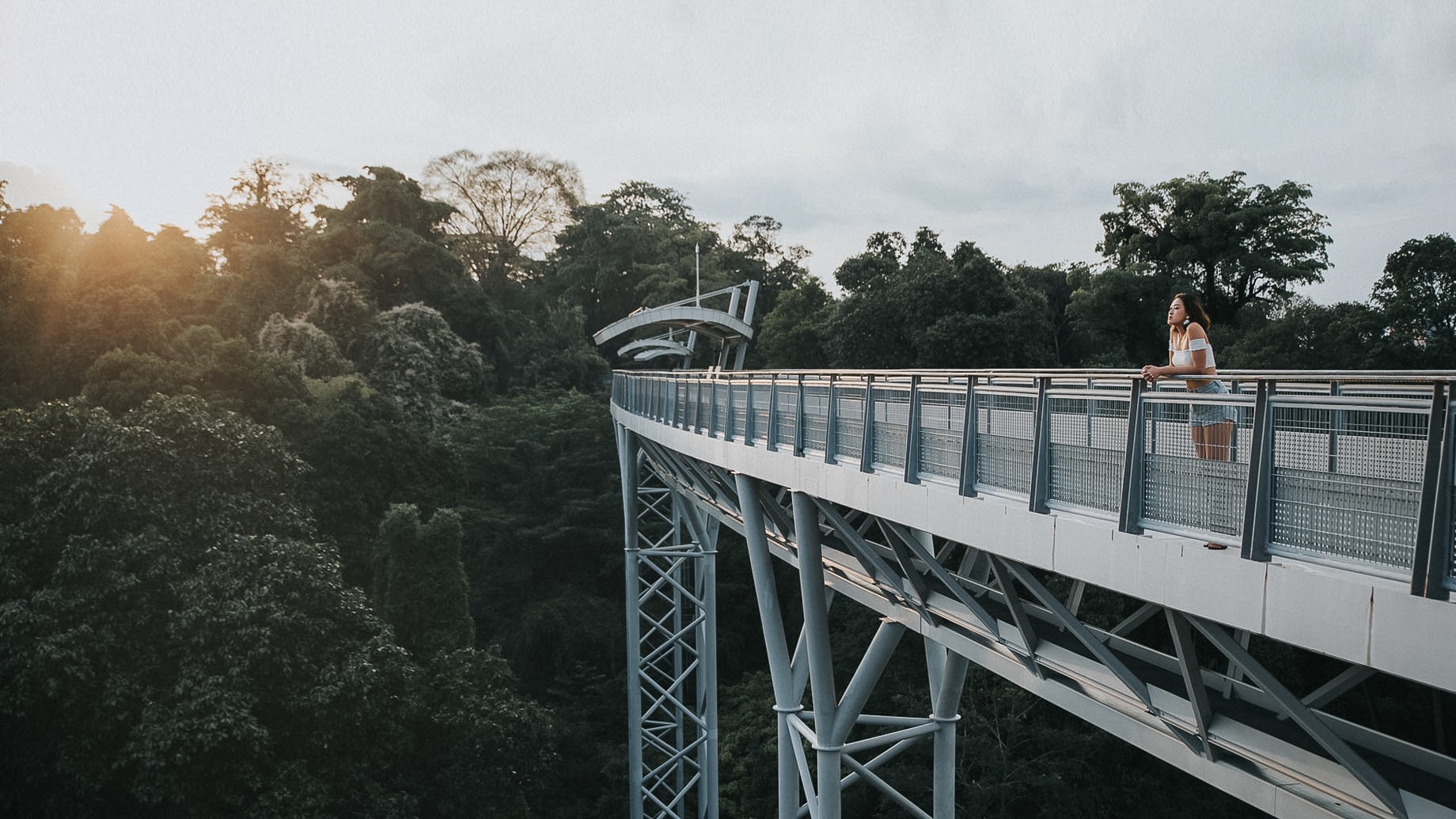 Image Credits: Sentosa Development Corporation
Take in scenic views of an unspoilt vista along the 181 metres long boardwalk, it makes for a perfect photo spot!
Skyline Luge Sentoa - $3 off Family and Individual Combo Packages for Village Hotel Sentosa guests
Image Credits: Skyline Luge Sentosa
Get ready for some exhilarating fun! Board the Skyride and soak in the picturesque view of Sentosa Island and Singapore's skyline. Then take your pick from one of four thrilling Luge tracks. Gentle and leisurely or steep and adventurous, you'll be hooked. Once is never enough!
Mega Adventure Park - S$10 off Zip Climb Jump Package (per pax) for Village Hotel Sentosa guests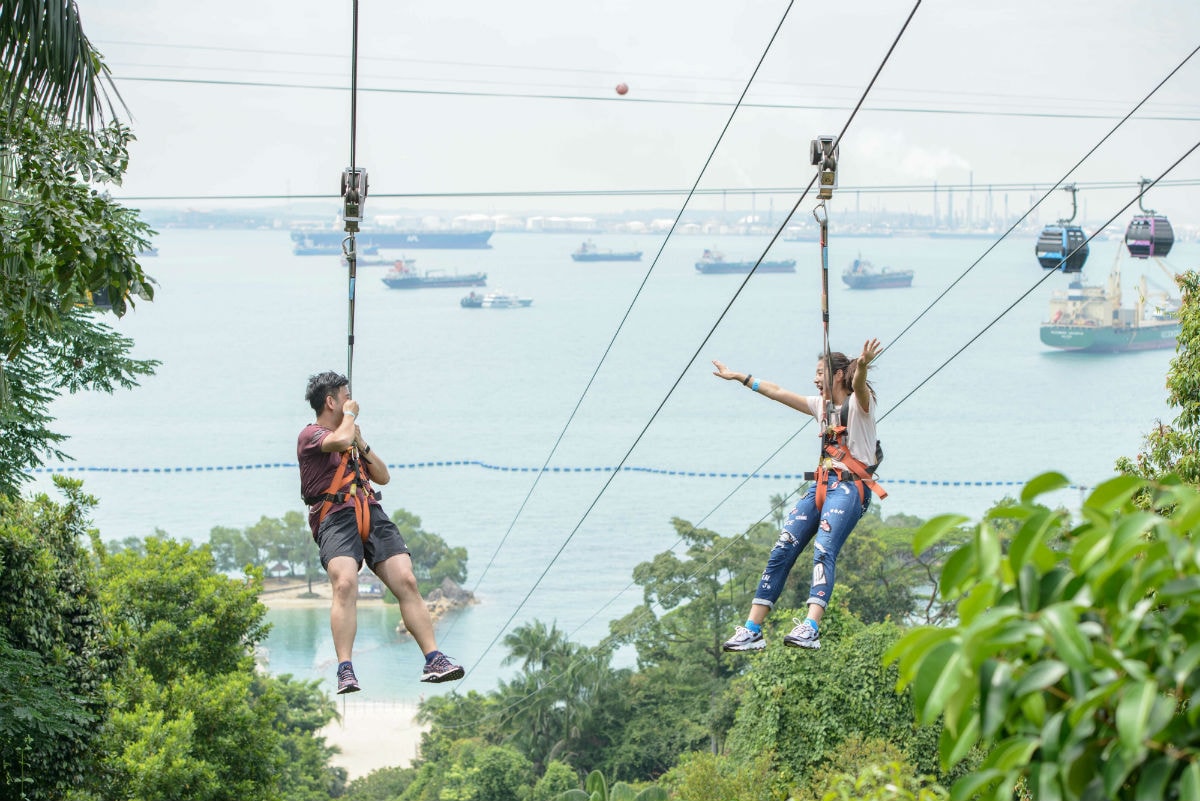 Image Credits: Mega Adventure
Try out their renowned activity Mega Zip, a flying fox activity takes you across the island - a top favourite for all the young daredevils and adrenaline junkies!
Wings of Time - 15% off standard seat for Village Hotel Sentosa guests
Image Credits: Mount Faber Leisure Group
An award-winning night show with spectacular pyrotechnics, music and light projections. Get set for an entertaining evening with majestic soundtracks and stunning fireworks!
Malaysian Food Street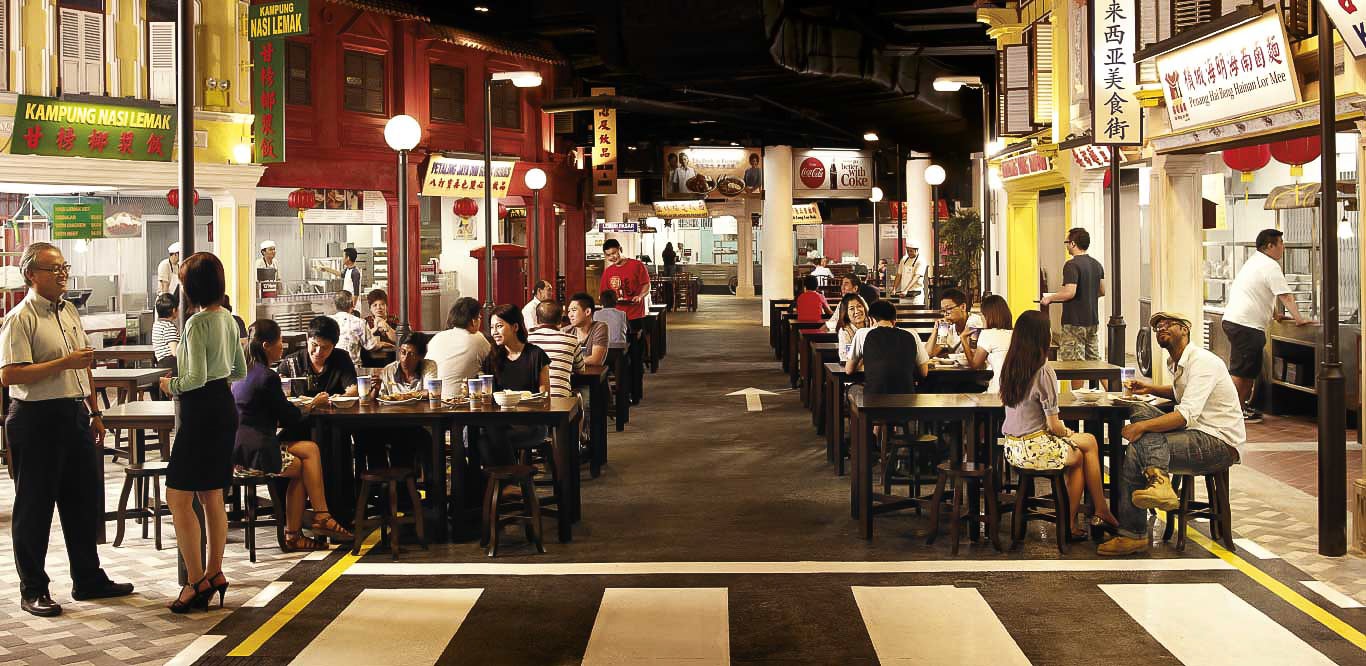 Image Credits: Resorts World at Sentosa
A one-stop shop you shouldn't miss out on if you're looking to savour some old-town favourites. You'll get the flavours of the Peninsula's hawker scene, all in the comfort of an air-conditioned space.
Arbora Hilltop Dining, Faber Peak - 10% off with $50 min. spend for Village Hotel Sentosa guests
Image Credits: One Faber Group
Dine on a delicious meal of Western classics and botanical-inspired beverages, while enjoying the great views surrounding Mount Faber and the Sentosa island.
Trick Eye Museum Singapore - 30% off each ticket for Village Hotel Sentosa guests
Image Credits:
Trick Eye Museum Instagram page
Prepare to have your imagination blast through the roof! The immersive optical exhibitions feature augmented reality (AR) elements to bring your museum experience to the next level.

So there you have it, a family vacation that's truly enjoyable and stress-free. Skip the planning and simply follow our lead for a vacation that both kids and parents will enjoy!
And if you're still looking for more activities and discounts, then check out the Village Passport as well!
Information is accurate at time of publication. Terms & Conditions apply for partners' benefits.