Stay
Why Book A Serviced Apartment?
A Serviced Apartment lets you enjoy your stay in Singapore without too much of a hassle. You can enjoy great savings depending on which location you choose, and there are many to choose from, ranging from quaint neighbourhoods with historical charm to being right in the heart of the city. Here are some reasons why a Serviced Apartment is the best option for you:
1. More savings for big families, groups and long stays.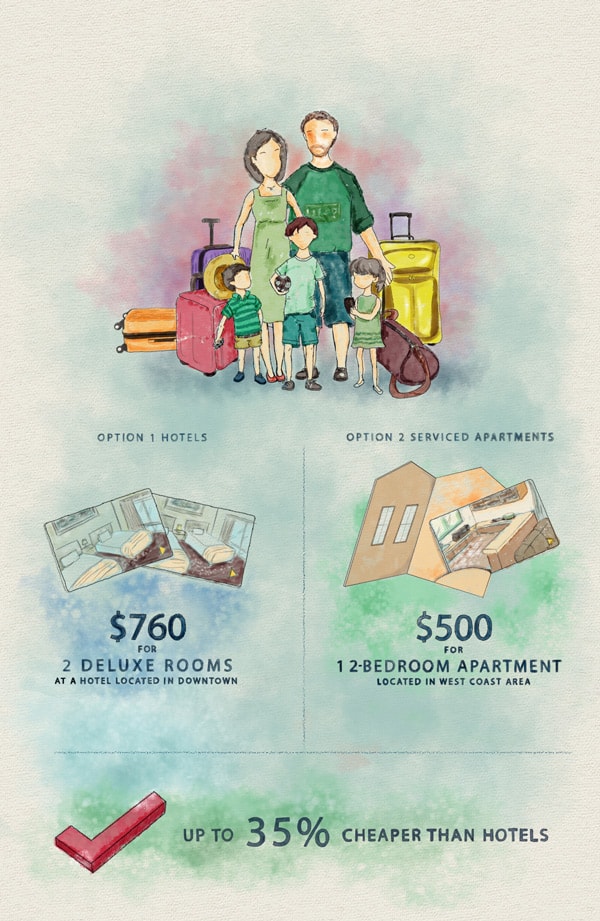 If you are a family with two to three children, and have a holiday budget to keep to, you might want to consider a two-bedroom apartment instead of two deluxe hotel rooms. With a total of $760 for two deluxe rooms compared to $500 for a two- bedroom service apartment, why wouldn't you want to enjoy more savings?
2. More privacy and provision of 24-hour security
A serviced apartment provides peace of mind while functioning like a home. A hotel room can be confining to your children and other members of your family if you have a large family and are staying for a longer period of time. With a serviced apartment designed like a home, you can look forward to claiming your own private space, while others can do their own thing.
Feel secured knowing that with 24-hour security for your family, it acts as a gatekeeper to strangers. It works just like a private home estate with good surveillance round the clock. In comparison to other rental alternatives, it is difficult to prevent unexpected guests turning up uninvited, and hence not being able to leave you with a peace of mind each time you leave the house.
3. More space and storage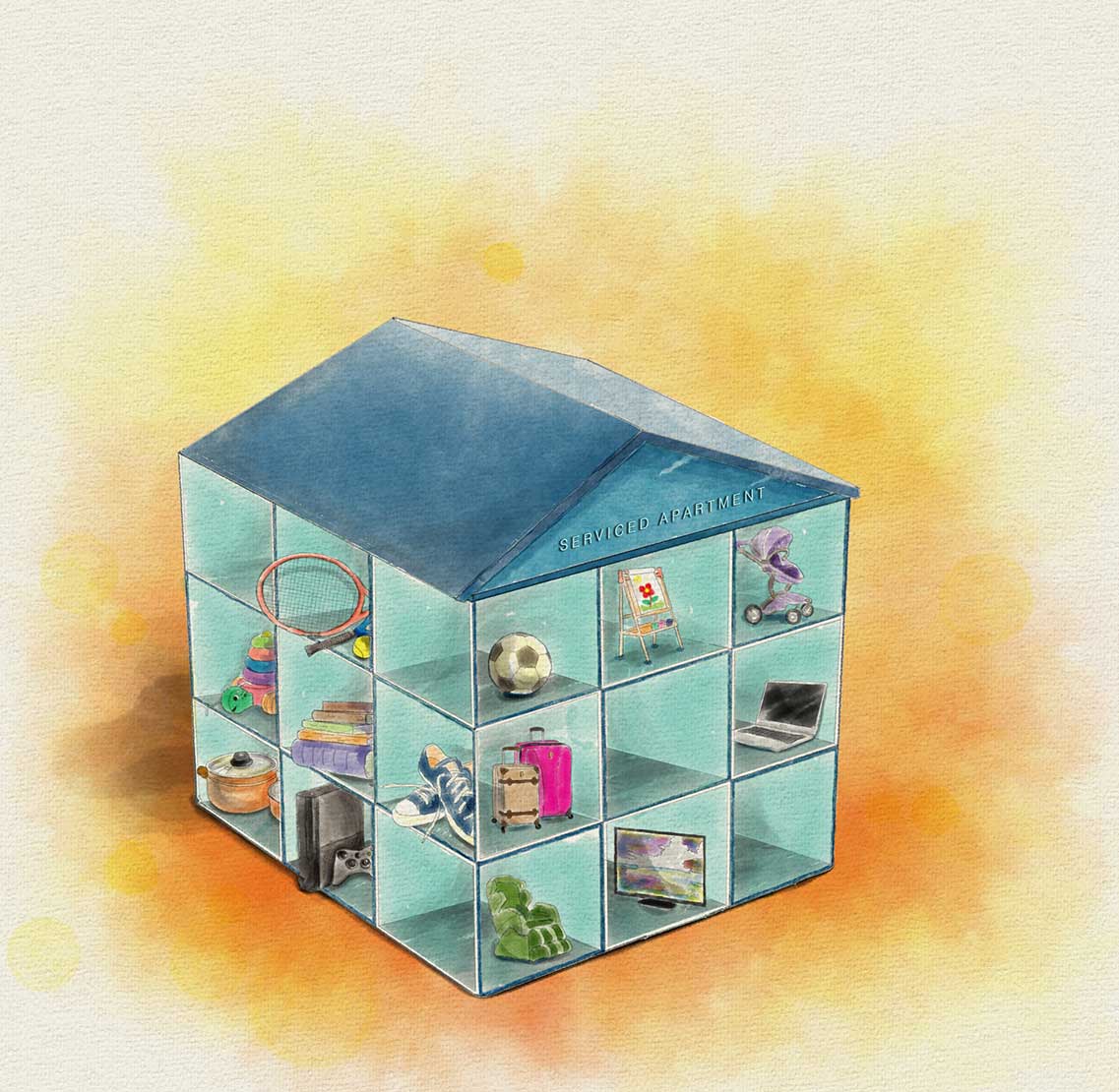 Store more of your necessities and entertainment needs. Bigger luggage or baby strollers can be kept neatly away. Display your favourite knick-knacks and furniture as you have a larger space to enjoy. When you stay at a place for a longer period of time, things would accumulate naturally over time. Having a bigger space helps in storing all your items properly instead of stacking them up in one corner due to space-constraints in the long-term. TESTING.
4. More adventures for the young
Families with young and teenaged children will find that they get more out of living in serviced apartments as there are a wide range of amenities to keep them occupied. The outdoor areas comprising the pool, gym, playgrounds and tennis courts will let them stay engaged throughout their stay. When it comes to enjoying quality family time, a meal around the barbeque pit will provide endless hours of fun and closeness.
5. Having a home in Singapore's most vibrant and happening neighbourhoods
You can walk about freely like a local or soak in the atmosphere like a tourist. Whatever it is, the choice is yours. Whether you are in Singapore for a short or long term stay, there is a diverse range of serviced apartments situated in every location in Singapore to suit your budget and taste. See the map for an overview of the serviced apartments available:
Being in the Heart of the City - Orchard Area
Orchard Road is the place to be in Singapore. You have miles and miles of grand shopping malls, such as the iconic ION Orchard, Forum The Shopping Mall and Takashimaya Department Store. There are entertainment choices, restaurants and cafes to check out, with interesting sights and experiences to take in. When you get tired of shopping, buy an ice cream cone from a street vendor and take a stroll down the tree-lined avenue. Take a moment to just enjoy the buskers and people that are part of the city vibe. Major sightseeing options are only minutes away by car or public transport. It is all about convenience and being centrally located. You will be able to just walk to most places you want to be within minutes.
Serviced Apartments in Orchard area: Orchard Scotts Residence, Orchard Parksuites, Regency House, Far East Plaza Residences
Being in the Heartlands- The North-East
For those who prefer to embrace the quieter side of Singapore, away from the city, the North-eastern region where Hougang heartlanders reside will be a good alternative to the city options. Step into the life of a Singaporean and live within the heartlands. Here, the markets and shops are just a short walk away. Go grocery shopping to cook your very own meal or try the affordable local cuisine at the wide array of hawker centres or food courts. You will probably be able to find more bargains so there are more savings in the long run. Staying in the heartlands will bring about a more memorable experience through the colours and flavours of being in the neighbourhoods of where the average Singaporean lives.
Serviced Apartments in this area: Village Residence Hougang
Being in the Fringe of the City – The West
The West Coast of Singapore is a green and scenic district bustling with creative energy and innovation. The best academic institutions of Singapore such as the Nanyang Technological Institute (NTU) and many other international schools are located here. Biopolis, the research and development centre for biomedical sciences and the Singapore Science Centre are located in the West as well.
If you work around the Jurong Industrial Town area and love to be near your work place, or if schools for your children are the top priority in your list, you might want to consider staying in this vicinity. This area will be less pricey as compared to the premium rates of the serviced apartments located in Orchard area. You can always travel by the reliable Mass Rapid Transit on a weekend if you need to get around town.
Serviced Residences in this area: Village Residence West Coast, Oasia Residence Singapore

Robertson and Clarke Quay- The Central Zone
Who wouldn't you want to live near the Singapore River? It is an area that is steeped in history - where industry, commerce and trade first started in the 19th century. The original warehouses and godowns of merchants during that time have been converted to dining, night spots and offices. The many concept restaurants and rooftop bars along the quayside area are some of the best that Singapore has to offer. A short walk away is the National Gallery of Singapore that has the world's largest collection of Singapore and Southeast Asian Art.
Serviced Apartments in this area: Village Residence Clarke Quay, Village Residence Robertson Quay
6. Enjoy the best of both worlds
You have the well-appointed amenities including complimentary wireless connectivity (wi-fi) for your communication devices, gym and pool facilities, and accommodating services of hotel staff members within the cosy and private ambience of a serviced apartment. Serviced Apartments are also more suitable for mid to long term stays with facilities like kitchenette, washer/dryer and barbeque pits which are not available in a typical hotel setting.
It is still a fantastic home away from home whether it is a holiday, staycation or getaway. Make your choice with one of Far East Hospitality's strategically-located serviced residences here as we have a serviced apartment in every location that matters.