Staycation Reviews
How to Get More Value on Your Booking!
Wish to make the most of your stay with us? We're here to help! In this article we share with you 3 simple ways to get the most value out of your stay with us.
1. Look out for discounted rates
One of the easiest ways to get your money's worth is to book rates that are discounted! You can find discounted rates through the following ways:
Book in advance: Booking your stay up to 60 days in advance to enjoy early-bird rates.
Check for flash sales: Regularly check our website for flash sales to get up to 50% off available rates! (Bonus tip: Subscribe to our mailing list here to stay updated on flash sales. Plus, subscribers get an extra 15% off their first booking with us.)
Create an account: Create an account when booking to save your details and access member rates that are 12% lower than anywhere else online!
2. Select packages that meet your needs

Pictured: Afternoon Tea at The Barracks Hotel Sentosa
If you want to enjoy a stress-free trip while saving money, consider booking a package that comes with inclusions that suit your needs! Here are different types of packages you can consider booking with us:
Complimentary food provided: Some packages come with free buffet breakfast, high-tea, all-day refreshments, and complimentary evening cocktails. You know for sure you will have the energy needed for a long day of exploring!
Early check-in or late check-out: If your travel itinerary is less than ideal, instead of waiting around in expensive airport lounges or cafes, consider packages with extended check-in/check-out timings so you can rest in your hotel room or spend more time sightseeing.
Activities and experiences: If you are unsure what to do in Singapore, we've got packages where we've partnered with local companies to provide complimentary tours, local experiences or special discounts to attractions and restaurants.
3. Book directly with the hotel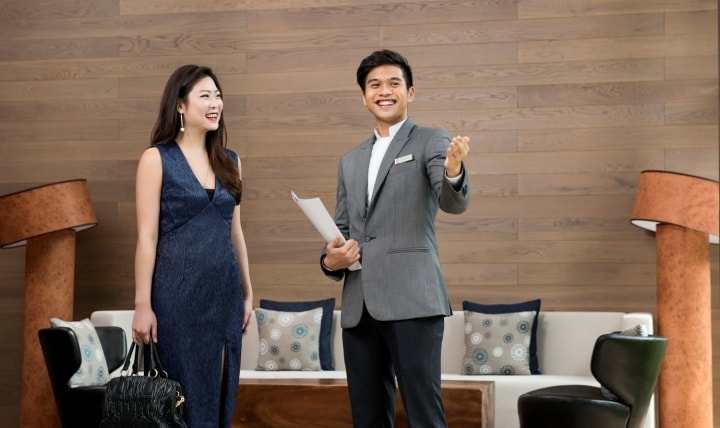 The phrase "book direct" is regularly used in the hotel industry but do you know why it provides you with better value?
Access to exclusive deals: The best deals we can offer are all available exclusively on our website for guests who book directly with us.
Communication of requests and changes: Third-party sites handle so many bookings across so many hotels that yours might get overlooked. By having a direct relationship with us, we are better able to assist you with any requests or changes you might require.
No hidden costs: Our costs are fully transparent upon booking and there are no hidden costs that you need to take note of.
Now that you know how to get the best value out of your booking with us, start planning your next stay by checking out the website-exclusive deals available here.