Explore
How To Explore Singapore With Kids
Travelling with young children is seldom easy. But if your family is swinging by sunny Singapore, fear not! We have an easy guide for you.
Here are some tips on navigating Singapore with your little ones:
1. Make use of the affordable and accessible public transport
There is no need to rent a car here! Taxis and ride-hailing services are an affordable and comfortable way to get around Singapore even with diaper bags and strollers in tow. Otherwise, buses and trains are a breeze as train stations here have lifts to the platforms and the wheelchair-accessible buses have space to accommodate strollers provided no wheelchair users are on board.

Singapore's Mass Rapid Transit (MRT) Train (Source: UrbanRail.net)
2. Book family-friendly accommodation
When travelling with young children special considerations definitely need to be made regarding accommodation! Book a family room to ensure that the whole family can fit comfortably in one room and Mum and Dad can keep a close eye on the kids. Also, find a hotel with a strategic location close to the train station and other attractions so that it is easy to pop back for a mid-afternoon break when the children are tired.
For affordable family rooms in strategic locations, check out Village Hotel Bugis or Village Hotel Albert Court – both of which have family rooms that can comfortably accommodate two adults and one child. They are both also less than a 5-min walk to the nearest train station.

Family Room at Village Hotel Albert Court
3. Go for age-appropriate activities
There's an abundance of kid-friendly activities in Singapore for children of all ages. Younger kids will enjoy the Jacob Ballas Children's Garden, located within Singapore Botanic Gardens or the Singapore Zoo to see animals up close. The older ones would enjoy more engaging activities such as the Singapore Discovery Centre and Science Centre to learn about the sciences or Universal Studios Singapore for a day of rides and shows.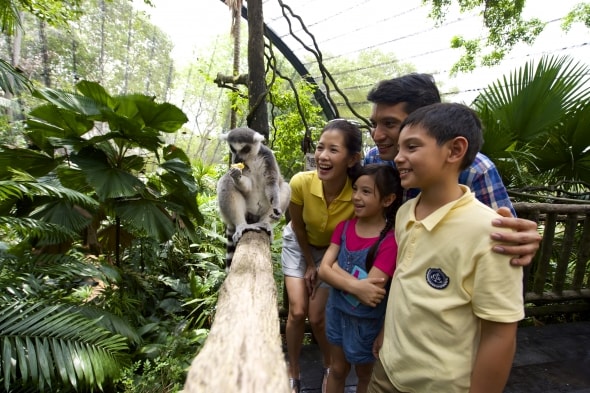 Singapore Zoo (Source: TIH)
4. Order easy to eat food
With its wide variety of cuisines and flavours, local hawker food is a cheap and delicious option during your trip. But for the little ones, stick to dishes that are milder such as steamed chicken rice, fishball noodle soup or roti prata, a type of flatbread. Other easy to handle food to try are satay, pieces of grilled meat on skewers, dumplings and meat buns. Lots of food in Singapore have chilli or spices in them, so before ordering, be sure to check that the selected dishes are okay for the kids!

Chicken Rice at Maxwell Food Centre (Source: TIH)
5. Prepare for the weather
If you are not used to tropical weather, the heat and humidity can make the whole family very uncomfortable during the day, especially for the little ones! Bring a change of clothes and wet wipes for your kids when they get sweaty. Also, always bring along a raincoat or umbrella in case of sudden showers of rain. If you are heading outdoors at night, keep insect repellent on hand to keep the bugs at bay.

Changi Boardwalk Sunset (Source: TIH)
Looking for accommodation for your next family holiday? Check out these exclusive deals available only on our website!