Staycation Reviews
Hotels for Your Travel Type!
Booked your trip to Singapore but not sure which of our hotels would suit you? We're here to help you make the right choice based on your travel type! Read on to find out what we recommend for each type of traveller.
Scroll down to read more or click on the below:

For the budget hunter
Pictured: Village Hotel Bugis' Superior Room
What you may be looking for:
Best value for your budget

Basic amenities without frills

Convenience and accessibility

Travelling on a tight budget means paying a premium to stay in the heart of popular tourist areas might be beyond your means. Instead, consider staying at hotels on the fringe of these areas to stretch your dollar!
The Elizabeth Hotel is one such hotel located on the fringe of Singapore's iconic shopping street, Orchard Road. Situated in a quiet residential area just 10 minutes away by foot, it provides you all the essentials you need for a comfortable stay at a wallet-friendly price!
Another hotel to consider is Village Hotel Bugis located in the Bras Basah-Bugis precinct. The hotel's strategic location places you within walking distance of Bugis Mass Rapid Transit (MRT) station where you can get to the popular Marina Bay area within 15 minutes on the train. The well-appointed rooms here are also spacious, with some configurations that sleep up to 4 persons, making it suitable for families as well.
For the wellness enthusiast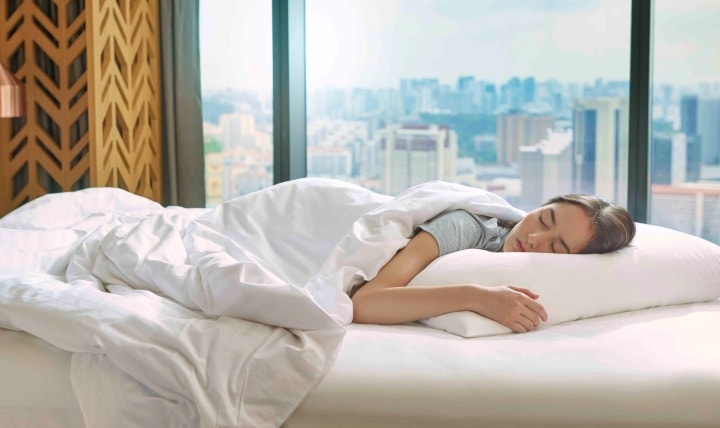 Pictured: Oasia Hotel Downtown
What you may be looking for:
A restful stay to rejuvenate yourself

The opportunity to keep up with your wellness routine
If you are looking for a restorative respite on your next stay, you can consider hotels from our Oasia brand. With wellness at its core, your next stay will be a chance for you to refresh, refuel and recharge.
Escape the heart of the city at Oasia Hotel Novena, which lies on the fringe of the iconic Orchard Road shopping belt. With the MRT directly connected to the hotel via the basement, it still offers you convenient access to all the main tourist attractions. If you prefer a more central location, you can consider Oasia Hotel Downtown in the Tanjong Pagar area. Located within a skyscraper, the 27-storey hotel allows you to leave the hustle and bustle of the city below you. However, you don't have to worry about being shut indoors as the open-air Sky Terraces within the hotel offer you the chance to enjoy fresh air while you lounge around enjoying aerial views of the city below.
Both hotels offer additional amenities to support your well-being. From the basics like lap pools and 24-hour gyms, the hotels have gone a step further to offer complimentary fitness classes like yoga. The hotels also have an in-house restaurant so you can enjoy fresh and wholesome meals throughout your stay.
For the culture vulture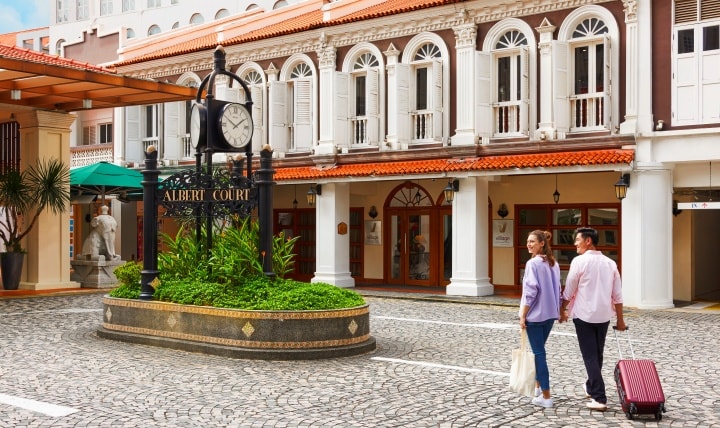 Pictured: Village Hotel Albert Court
What you may be looking for:
The chance to stay amidst heritage architecture

Experience living like a local
Most of the hotels in our Village brand are located within or close to neighbourhoods rich in culture and history, so they would be a great choice for travellers looking to immerse in local culture.
To stay within walking distance of Little India, consider Village Hotel Albert Court which is just located a street away. You can tuck into the best Indian food here or admire the intricate architecture of the Hindu temples. Forgot to buy souvenirs? Not to fret as the famous 24-hour shopping mall, Mustafa Centre, is within the vicinity.
If you want to learn more about the lesser known Peranakan culture, consider a stay at Village Hotel Katong in the heritage neighbourhood of Katong. Early Straits-Chinese settlers, also known as Peranakans, lived in this neighbourhood and their influence can be seen in the architecture of the area. Here you can explore the labyrinth of little streets brimming with Peranakan crafts, and taste authentic cuisines ranging from the famous Katong Laksa (rice noodles in spicy coconut gravy) to Nyonya kueh (colourful, bite-sized Peranakan desserts).
Prefer a more tranquil location for your holiday? Head to the laidback coastal village of Changi and enjoy the crisp sea breeze on your stay at Village Hotel Changi. You can even hop on a bumboat and travel to Pulau Ubin, a rustic offshore island, to experience how Singapore was like in the 60s. During your stay, don't forget to savour a favourite local dish, nasi lemak (fragrant coconut rice with condiments) at the hawker centre nearby.
For the family vacationers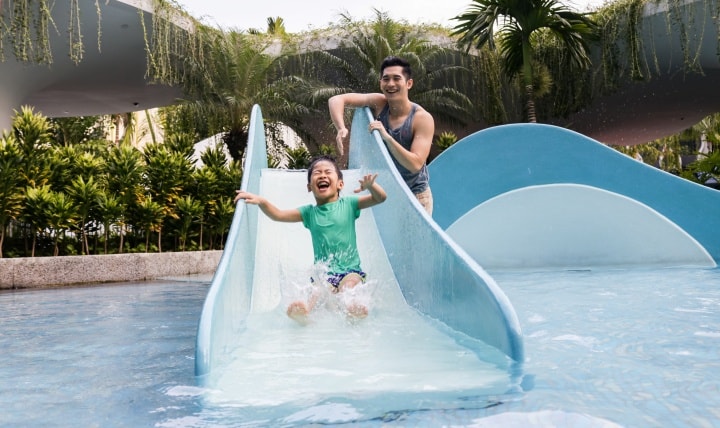 Pictured: Kids' Pool at Village Hotel Sentosa
What you may be looking for:
Easy access to key attractions

Convenient transportation

Family-friendly amenities
Located just an 8-minute walk from the Orchard MRT station, Orchard Rendezvous Hotel, is easily accessible and it also has family-friendly amenities! The hotel offers room types suitable for families with kids of all ages: from sofa beds, bunk beds to additional single beds. Your kids will also love the outdoor swimming pool and there is a multitude of dining options in and around the hotel.
If your children love theme parks, Village Hotel Sentosa is a short distance to Universal Studios Singapore and Adventure Cove Waterpark! The hotel has amenities that include customised bathrobes for kids (upon request), Family Rooms and family activities such as Scavenger Hunt and Movie Nights. The hotel also has 4 uniquely themed pools that everyone will enjoy!
For the lovebirds
Pictured: Kids' Pool at Village Hotel Sentosa
What you may be looking for:
Romantic ambience

Privacy and exclusivity
For a private escape from the city, consider a stay at The Outpost Hotel Sentosa, where a romantic island getaway awaits. Tailored specifically for adults (kids below 12 years of age are not allowed), you can enjoy time for two in a relaxing and quiet environment. Win your other half's heart by curating a minibar with items he or she fancies and, in the evening, head to the rooftop pool deck to cosy up under the stars.
For couples who want privacy and accessibility, Rendezvous Hotel Singapore is another option. The hotel is conveniently nestled in the heart of the city where transport and amenities are easily available while its spacious and highly reviewed Club Rooms will provide an intimate retreat for two. Your Club Room booking will also come with access to the exclusive Club Lounge, where you can enjoy all-day refreshments and evening cocktails.
For the trendsetter
Pictured: Deluxe Room at AMOY
What you may be looking for:
Stylish decor

Unique experience
If you enjoy admiring unique designs and sharing photos of your trips, you might prefer staying at a boutique hotel over a larger hotel.
Quincy Hotel is located in a quiet enclave just a short walk from the bustling Orchard Road shopping belt. Guests love the quirky colour-changing, LED-illuminated pool as well as the activities put together by the Quincy team, such as movie nights by the pool. Alternatively, you can consider AMOY, a 37-room hotel close to Chinatown. Decorated with Chinese heritage accents as a tribute to the area's trading past, these oriental touches all around the hotel make for an Instagram-worthy backdrop.
Their commitment to service is also clear as both Quincy Hotel and AMOY have made it to TripAdvisor Travellers' Choice 2020 Best of the Best lists for Top Hotels for Service – Singapore and Top Hotels – Singapore. Quincy Hotel was awarded 6th place and 8th place respectively, while AMOY was awarded 8th place and 11th place respectively.
For the sophisticated traveller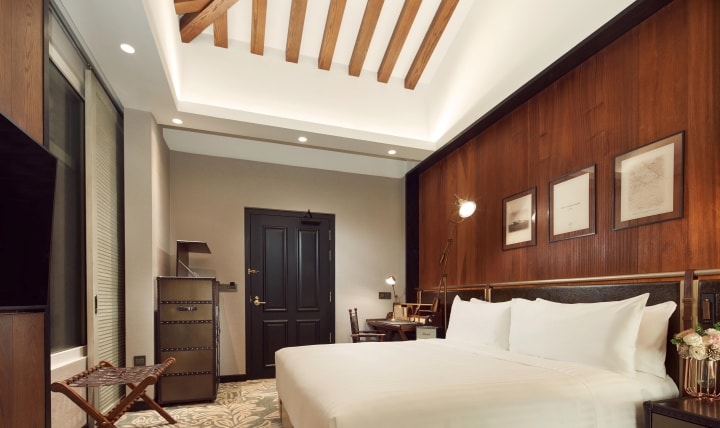 Pictured: Premier Room at The Barracks Hotel Sentosa
What you may be looking for:
Luxurious furnishings and high-quality décor

Personalised and enhanced service
With its handsomely designed rooms, The Barracks Hotel Sentosa transports you back in time to a heritage hideaway. Once a British artillery base, this hotel invites guests to experience the glorious past of Sentosa through its sepia toned designs, dark wood grains, warm brass and leather-accented furnishing. Guests are pampered with an exclusive 45-minute guided Barracks heritage walking tour, personalised Equerry service and access to a private lounge with complimentary breakfast and evening cocktails and canapes.
For those who prefer a location in the heart of Singapore's downtown core, our newest hotel, The Clan Hotel, is a stylish, unorthodox take on traditional Asian hospitality. This loving tribute to the clan associations in Singapore is committed to continuing the legacy of Singapore's forefathers by telling their story through personalised experiences. This hotel is open for booking of stays from 1 May 2021.